The Hideyo Noguchi Africa Prize 2019 (Medical Research) - PRESS RELEASE -
25 April 2019, Japan The Cabinet Office
The Government of Japan has decided to award the Third Hideyo Noguchi Africa Prize to Dr. Jean-Jacques Muyembe-Tamfum (Democratic Republic of the Congo (DRC)) and Dr. Francis Gervase Omaswa (Republic of Uganda).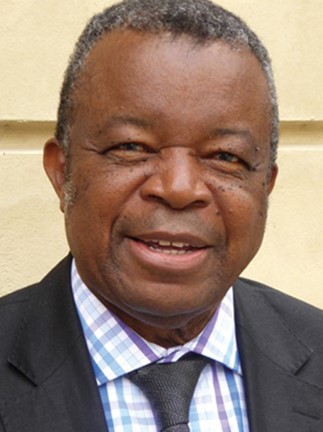 Born in the DRC in 1942. Obtained M.D. at University of Lovanium (present University of Kinshasa), and Ph.D. (Medicine/Virology) at Rega Institute for Medical Research, Catholic University of Leuven (Belgium). Current General Director, National Institute of Biomedical Research (INRB) and full Professor of Medical Microbiology/Virology, Faculty of Medicine, University of Kinshasa
The Third Hideyo Noguchi Africa Prize for Medical Research goes to Dr. Jean-Jacques Muyembe-Tamfum for his research to confront Ebola and other deadly viruses and efforts to train legions of disease-fighters.
Dr. Jean-Jacques Muyembe-Tamfum has for more than five decades displayed outstanding courage, intelligence and scientific rigor in research and training in the DRC. In particular, in 1976 he identified the existence of a previously unknown disease in his country, collected blood and tissue samples under dangerous conditions, and forwarded them to the Institute of Tropical Medicine in Belgium where the Ebola virus was discovered. Since 1976 Dr. Muyembe-Tamfum has been on the front lines of Ebola research, identifying nosocomial and burial transmission as two of the major causes of disease transmission, contributing to vaccine research, developing antisera therapy and training a new generation of disease responders and Congolese laboratory scientists.
Summary of Achievements
Dr. Jean-Jacques Muyembe-Tamfum is an African scientist who was dispatched to Yambuku, a small village in northern area of DRC, where the first outbreak of Ebola virus disease (EVD) occurred in 1976, and he raised an alert about the disease. Since then, he has worked as an expert in tackling and controlling EVD. He was appointed as Chairman of the International and Scientific Committee against EVD outbreaks in Kikwit in 1995 and conducted extensive studies on that outbreak, including reviewing hospital records and interviewing survivors. He found that EVD outbreaks in Kikwit were caused by nosocomial infection. As control measures for EVD, he advocated the isolation of patients in a quarantine ward, the distribution of protective equipment to healthcare workers and family members, the distribution of health educational material, the proper burying of the deceased by a trained team. Undertaken, these actions proved to be effective. In addition, he introduced a sociocultural view to thwart Ebola virus transmission. He recognized traditional burial practice to be one of the major causes of the disease transmission within the community. Thereafter, he explained to local community leaders how the disease is transmitted and provided families with gloves and protective gear. These measures introduced through his leadership proved to be effective when DRC contained the outbreak within 3 months. Applying these experiences, he has been a consultant for WHO, assisting with Ebola and Marburg virus disease outbreaks in other countries.
Dr. Muyembe-Tamfum's scientific contribution is not limited to EVD, but also includes a wide range of diseases. DRC has been suffering from political instability and poor infrastructure for a long time. Due to this situation, INRB had not been provided sufficient funding either from the government or from outside sources. Nevertheless, he devoted his energy to building up INRB's capacity in various fields as its director. He set up a research and surveillance infrastructure on vaccine-preventable diseases such as poliomyelitis, measles and yellow fever, on zoonoses such as monkeypox and viral hemorrhagic fever, and on acute respiratory infections such as influenza, and resistance of tuberculosis and enterobacteriacae to antibiotics. He was awarded Le Prix Christophe Merieux from Institut de France in 2015 for his great achievements and contributions in the research field of infectious diseases in Africa.
His contribution to education is also noteworthy. Having served on the Faculty of Medicine, University of Kinshasa for more than 40 years, he has trained over 1000 young researchers in DRC. In addition, he has since 1998 been the General Director of INRB, which has a function of training researchers in biomedicine. Many graduates of his programs are now playing pivotal roles in the control of infectious diseases worldwide. He also contributed to establishing the School of Public Health at Kinshasa, l'Ecole de santé publique de Kinshasa, ESPK, DRC.
Dr. Muyembe-Tamfum has established international networks and partnerships outside of Africa, such as the Centre International de Recherches Médicales de Franceville (Gabon), National Institute for Communicable Diseases (South Africa), The School of Veterinary Medicine, University of Zambia (Zambia), Noguchi Memorial Institute for Medical Research (Ghana), Institute of Tropical Medicine, Antwerp (Belgium), Institut de recherche pour le développement, University of Montpellier (France), Robert Koch Institute, Berlin (Germany), US Center for Disease Control and Prevention Atlanta (USA), National Institutes of Health (USA), University of California in Los Angeles (UCLA), Public Health Agency of Canada (Canada), and Japanese research institutions including, National Institute of Infectious Diseases (Tokyo), Hokkaido University (Sapporo), Nagasaki University (Nagasaki), and National Center for Global Health and Medicine (Tokyo).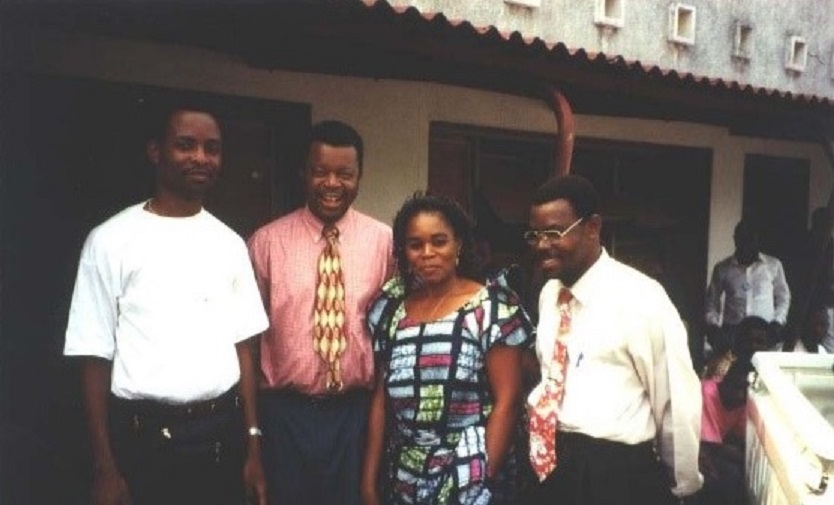 Dr. Muyembe-Tamfum with a survivor (woman) of Kikwit Ebola outbreak, 1995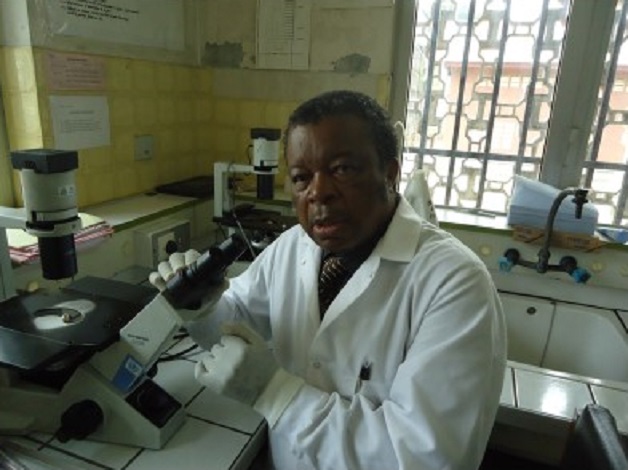 Dr. Muyembe-Tamfum working in the lab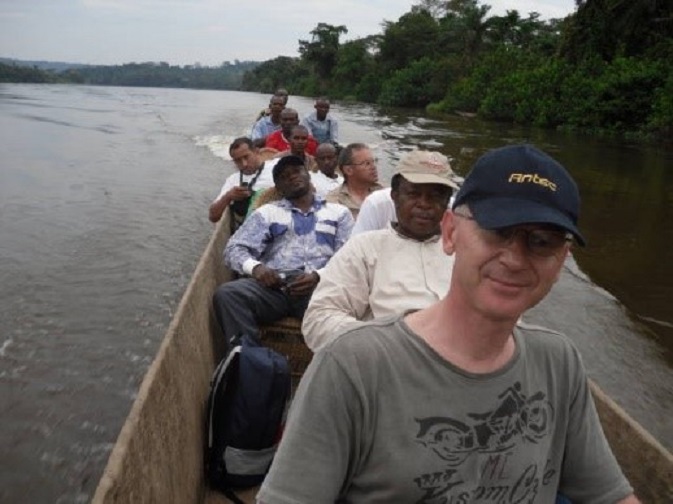 Dr. Muyembe-Tamfum working with his colleagues in the field