Updates on activities of Dr. Francis Gervase Omaswa (The Laureate of the Third Hideyo Noguchi Africa Prize for Medical Services)
2022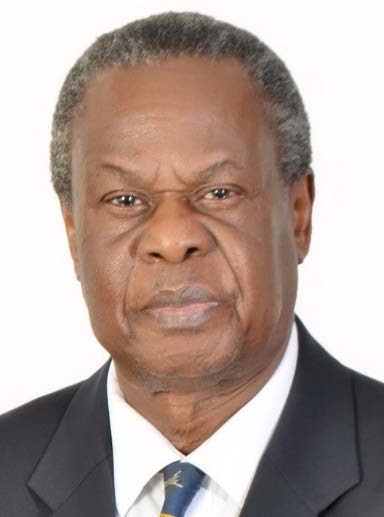 Please also see the page of The Third Hideyo Noguchi Africa Prize.

Achievement
Executive Director, African Center for Global Health and Social Transformation (ACHEST). I was awarded for my dedication to addressing the global health workforce (HWF) crisis including education, training, retention and migration of healthcare workers and for building pro-people health and medical systems not only across Africa, but worldwide.
Activities after receiving the prize
I continued in my role as ED of ACHEST implementing the following major activities:
1. Health Systems Advocacy Partnership
Health Systems Advocacy Partnership (2017 – 2020) implemented in Kenya, Malawi, Tanzania, Uganda and Zambia and funded by the Ministry of Foreign Affairs of the Netherlands government. Other partner organizations in the project were Amref Nederlands, Health Action International and Wemos. Systems and more transparent policy making structures in order to improve access to Sexual and Reproductive Health services in the project countries.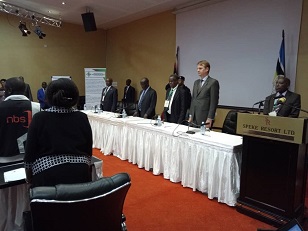 With the Netherlands Ambassador HSAP Conference to Uganda
2. Implementing Intersectoral Collaboration in Uganda
The project, implemented in Ngora District Local Government, mobilized local political, religious, and cultural leaders, extension workers, and CSOs to implement Integrated People Centered Primary Health Care. Village Health Teams (VHTs) are trained to make household maps, maintain health registers; observe health practices, hygiene, and share advice on healthy living. They also follow up patients at home, refer the sick to health units, ensure children are immunized, and counsel pregnant women on antenatal and postnatal care. Every month local leaders convene a community dialogue to identify local solutions to issues emerging from the community.
3. Chair National Community Engagement Subcommittee for Covid-19 Response
In June 2020 I was appointed by the President of Uganda as Chair National Community Engagement Subcommittee for Covid-19 Response. In this role, the Committee developed the National Community Engagement Strategy (CES) which was launched by the Rt. Ho. Prime Minister of Uganda in October, 2020. We established Village Health Task Forces and trained Village Health Teams of Community Health Workers to make maps of households in the village, visit households, raise awareness, refer suspected cases and provide Home Based Care for COVID-19. On top of this they also promote domestic hygiene and address other health needs of communities in Uganda.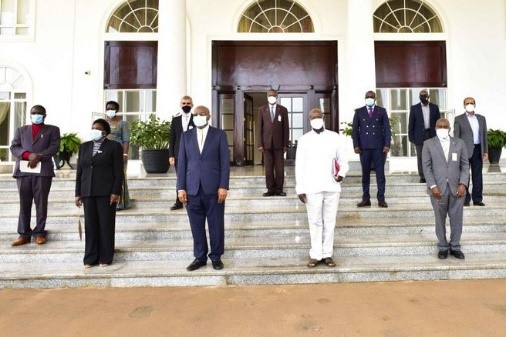 Dr. Omaswa and his National Covid-19 Task Force with the President and Prime Minister of Uganda in June, 2020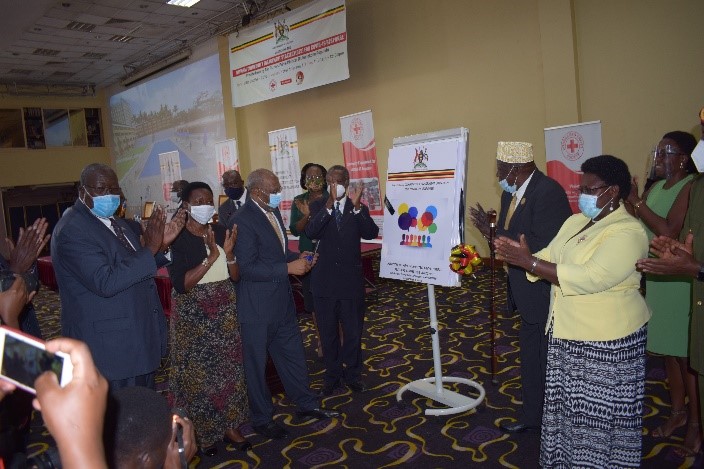 Prime Minister of Uganda launching the CES October, 2020 with Minister of Health and Dr. Omaswa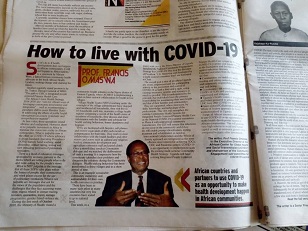 Promoting Public Awareness on Covid-19
Japan International Cooperation Agency (JICA) provided a grant
Japan International Cooperation Agency (JICA) provided a gran that supported this work in four Pilot Districts of Amuru, Busia, Mukono and Ngora.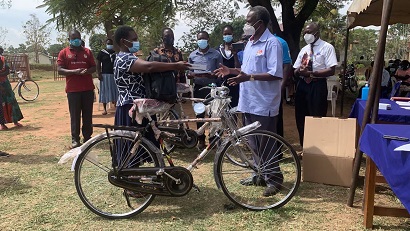 Handing over bicycles and equipment of Village Health Teams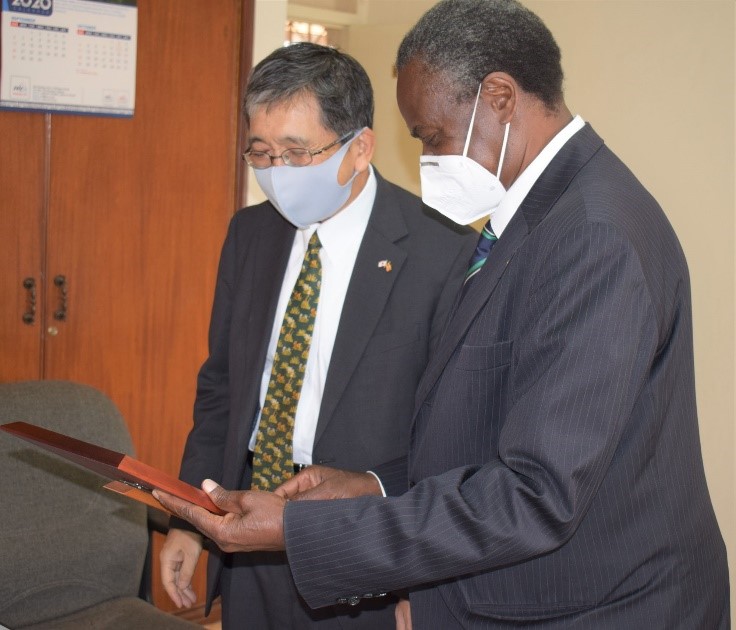 Dr. Omaswa with Japan Ambassador to Uganda Kameda Kazuaki inspecting the Hideyo Noguchi Award
4. Orientation of Newly Qualified Health Professionals (HEPI)
This project implemented by ACHEST and Makerere University College of Health Sciences with a grant from NIH of the USA government has lasted three years and provides one day training program to help newly graduated health professionals to join Internship and the practice of their respective areas of specialization. The course is both virtual and face to face conducted two time annually.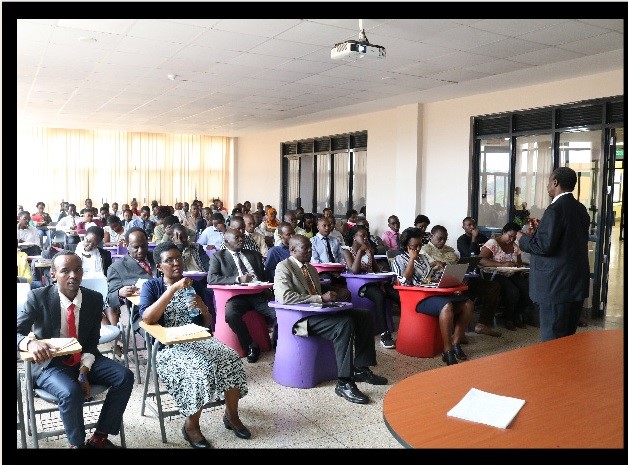 Dr. Omaswa talking to newly qualified Health Professionals in Uganda
5. Chancellor of Soroti University
In April, 2021, I was appointed by H E the President of Uganda as the first Chancellor of Soroti University which is a public Science based University in the Teso Region of Uganda.
6. Member of the Board Nursing Now Global Campaign
I was appointed and still serve as a member of the Advisory Board for the Nursing Now Global Campaign and the Year of the Nurse 2020.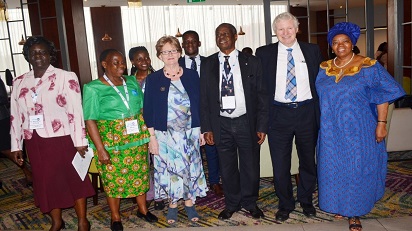 Dr. Omaswa with Nursing Now Board leaders visiting Uganda. Lord Nigel Crisp, Professor Sheila Tlou,
Annette Kennedy President International Council of Nurses, Chief Nurse Uganda Beatrice Amuge
7. Goodwill Ambassador of Fukushima Prefecture
In this role, I have established a twinning link between a school in Uganda, St. Mary's College, Kisubi and Azuma Junior High School in Inawashiro Town a school in the Fukushima Prefecture of Japan. The teachers and students in the two schools are now engaged in virtual meetings and other activities. We hope that after Covid-19 physical visits may be possible between the two schools and forge stronger bonds and partnership between the people of Japan and Uganda going far into the future.
Online Exchange Program Commemorating the Hideyo Noguchi Africa Prize
8. Advisory Council Member
I have accepted invitations to join the Uganda Advisory Councils and Boards of the Kenjin-Tatsujin International Advisory Council of Ashinaga and the Mitshubishi Corporation.
9. Chief Guest at the Aga Khan University
Chief Guest at the Aga Khan University graduation ceremony.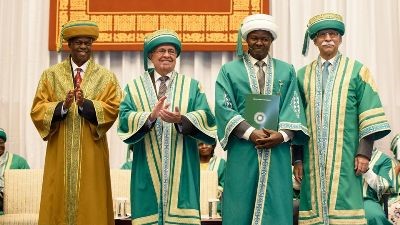 Dr. Omaswa with Chancellor of Agha Khan University, Kampala, Uganda
10. Giants of Medicine in Uganda
The Uganda Medical Association in 2021 recognized Dr. Omaswa as one of the 25 top all time Giants of Medicine in Uganda in a book that described key aspects of their contribution to the practice of medicine in Uganda.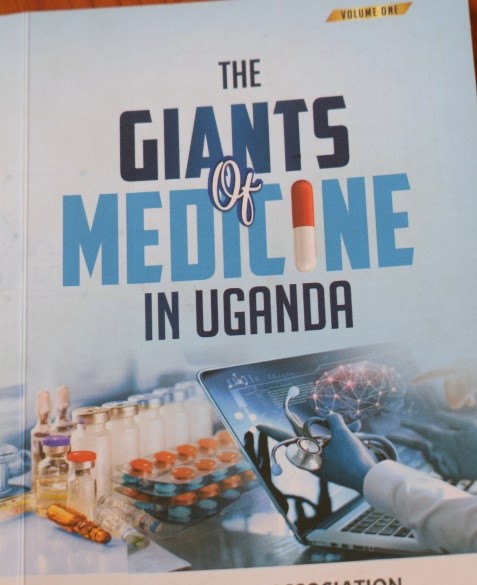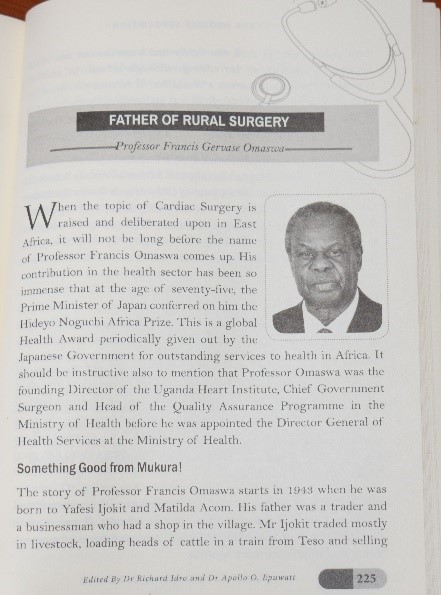 The book Giants of Medicine in Uganda
11. Freda M Omaswa and Hideyo Noguchi Center for Health and Society Building project
During my acceptance speech for the 3rd Hideyo Noguchi Africa Prize in Tokyo, I stated that my family was going to donate part of the prize money to building a center named above in memory of my daughter, a promising physician who died in 2016 while doing similar work to Hideyo Noguchi in West Africa. The design of the Center is shown below and construction for the buildings started in October, 2021 as per picture below. We hope to have three core initial buildings ready for the Center to open before the end of 2022. These are one classroom block and one dormitory for boys and another for girls. The rest of the project will require additional fundraising.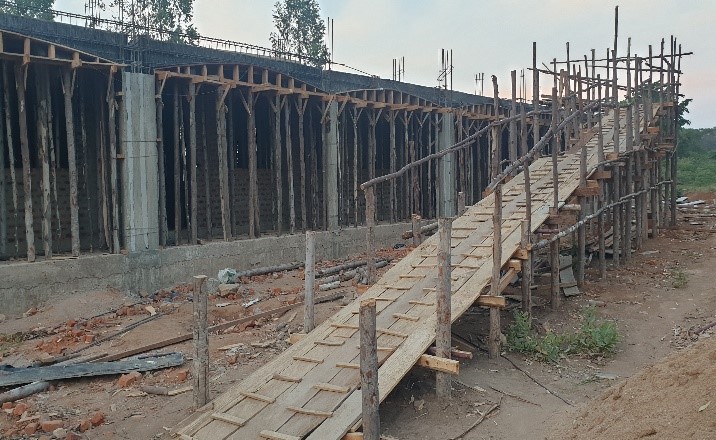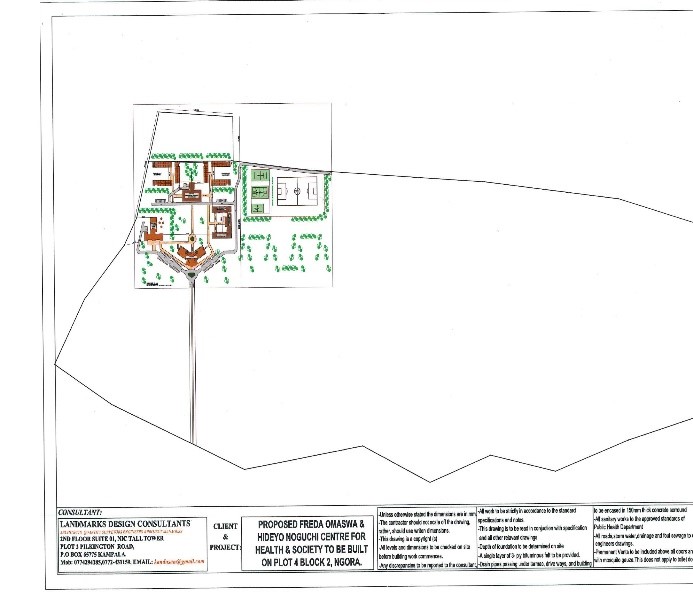 Master Plan and construction of first Classroom Block at the Freda Omaswa and Hideyo Noguchi Center