Democratic Republic of Timor-Leste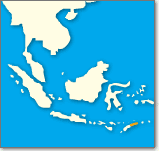 Capital:Dili
Background

Timor-Leste had been colonized by Portugal since the 16th century. In 1974, Portugal abandoned its sovereignty over Timor-Leste, but it was followed by the annexation by Indonesia in 1976. Armed violence occurred between pro-independence and pro-Indonesia militias after the annexation, but finally the peace agreement was concluded in 1999.
On May 20, 2002, after a Constituent Assembly election in August 2001 and a presidential election in April 2002, East Timor gained its independence, becoming the first nation to do so in the twenty-first century. The country is now in the process of establishing itself as an independent state.
In the course of these developments, the UN Mission in East Timor ( UNAMET ), the UN Transitional Administration in East Timor ( UNTAET ), and the UN Mission of Support in East Timor ( UNMISET ) have played key roles. In addition, due to the deterioration in the security situation from April 2006, the UN Integrated Mission in Timor-Leste ( UNMIT ) was established in August of the same year.
Japan has sent a total of some 3,400 personnel to East Timor and other places in an international peace cooperation assignment to assist the UN activities.
Results