Democratic Republic of the Congo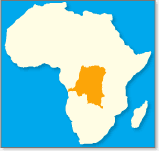 Capital:Kinshasa
Background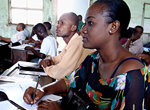 Staff in voting station in which
it seriously works on pre-
service training for success in
real democratic election.



In the Democratic Republic of the Congo ( DRC ), conflict between the government and anti-government groups broke out in August 1998, with the involvement of neighboring countries. The conflict was to become one of the worst conflicts in African history, causing more than 3.3 million deaths and 2 million refugees. The Pretoria Accord was signed in December 2002 after a peace agreement was reached concerning the withdrawal of neighboring countries from DRC and national dialog between the government and rebel forces. (The Accord led to the establishment of the transitional government in July 2003.) Meanwhile, the United Nations established the Mission of the United Nations in the Democratic Republic of the Congo ( MONUC ) to observe the implementation of the peace agreement and support the elections to enable the Congolese themselves to establish a democratic government.
The referendum on the draft constitution was held without major trouble in December 2005. Since then, the political process has progressed through the promulgation of the Constitution and the Election law. On July 30, 2006, the first democratic elections, both presidential elections and national assembly elections, were held (a run-off presidential election was held on October 29, 2006).
Results