The Fourth Hideyo Noguchi Africa Prize Award Ceremony Remarks by Laureate of Medical Services Category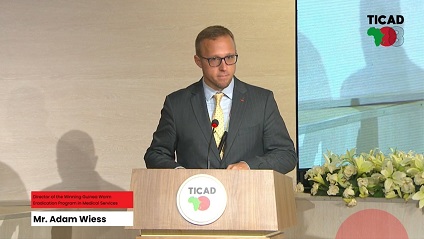 Program Director, Mr. Adam Weiss (The Carter Center)
His Excellency, Prime Minister Kishida, Honorable Foreign Minister Sall, Honorable Hay-ashi, heads of state, the Noguchi Prize Committee, ministers, my fellow laureates, and honored guests. Konnichiwa and good morning.
It is my honor to be here to accept the Hideyo Noguchi Prize for Medical Services on behalf of the global Guinea worm eradication campaign. Our Guinea worm-fighting team consists of each country's ministry of health, nongovernmental organizations, traditional leadership, local and national political leaders, and thousands of village volunteers, many of whom have suffered from the disease themselves. They all work tirelessly to defeat this disease in the most remote locations. It is their hard work that we honor here today.
The Carter Center began leading the global coalition to eradicate Guinea worm disease over 35 years ago. When we began, there were an estimated 3.5 million cases occurring annually in 21 countries in Africa, Asia and the Middle East. Over 120 million people were at risk of infection. Last year, there were just 15 human cases reported. On a planet of nearly 8 billion people, that is an amazing accomplishment. As of today just 5 cases, 4 in Chad and 1 in South Sudan, have been reported this year.
As many of you know, Guinea worm is a debilitating parasitic disease that is transmitted through surface drinking water. Detecting the disease can only happen after a one year incubation period, when a nearly one meter long worm emerges from your body. It can take weeks or months to gradually pull the worm out of your body, an excruciatingly painful process. A woman in South Sudan described it as worse than the pain of childbirth because it is unrelenting. The disease remains a symbol of inadequate access to safe water and the challenges of providing health services to socially, politically and often geographically marginalized populations.
The goal is to eradicate Guinea worm by 2030. Once this crippling disease is gone, the legacy of everyone who worked on and supported the Guinea Worm Eradication Program will continue to extend beyond the disease itself. The campaign is, in fact, helping fulfill the United Nations Sustainable Development Goals; combating poverty and hunger and empowering women; improving access to safe water; providing millions of people with portable filters (LIKE THIS, Show the filter around neck) so that they can access Guinea worm free water wherever they go. Agricultural production has improved and the decline in infections among children has resulted in increased attendance at school. Women have been elevated as program leaders and trained as respected community volunteers. The village-based healthcare delivery systems built by national Ministry of Health Guinea worm eradication programs served as a foundation to combat other diseases and provide the basic healthcare everyone deserves. Our friends in Togo demonstrated this through their recent announcement of having eliminated 3 diseases in addition to Guinea worm!
The nation of Japan has been one of our most significant supporters, donating over 20 million dollars to the cause and even sending health workers from the Japanese Oversees Cooperation Volunteer Program, several of whom I worked with first hand while I was working to eliminate Guinea worm in Ghana. We are now pleased to include the Noguchi Prize among the donors and partners in this historic effort to eradicate the second human disease from earth.
On behalf of Former U.S. President Jimmy Carter, Former First Lady Rosalynn Carter, and The Carter Center trustees and staff, please accept our appreciation for honoring the work of the thousands of people who have dedicated their lives with great sacrifice to relieve the suffering of others. Thank you for helping us restore hope and humanity to the millions who have suffered from this terrible disease.
Watashi-tachi wa kouei des. We are honored. Watashi-tachi wa kansha shite imas. We are thankful.
Arigatou Gozaimashita. Shukraan jazilaan, Merci beaucoup, Asante sana.