- Profile - Dr. Alex Godwin COUTINHO
PERSONAL PARTICULARS
BIRTHPLACE : Hoima, Uganda
DATE OF BIRTH :19 June 1959
NATIONALITY : Uganda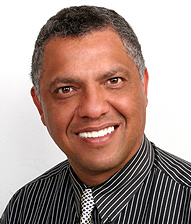 EDUCATION
1965 to 1971 : Victoria Nile Primary School, Jinja
1972 to 1975 : St. Mary's College, Kisubi
'O' Levels. Best student in East Africa
1976 to 1977 : St. Mary's College, Kisubi
'A' Levels. Best student in Uganda
1978 to 1983 : Makerere University, Medical School
MB ChB
Graduated 1st in class of 90 students
1985 to 1987 : Makerere University Medical School
Master of Science (Physiology)
Awarded with credit
1992 : College of Medicine of South Africa
Diploma in Primary Emergency Care
1994 : University of Witwatersrand
Diploma in Tropical Medicine and Hygiene. Awarded with distinction.
1995 : University of Witwatersrand
Diploma in Public Health. Awarded with distinction
1996 : University of Witwatersrand
Diploma in Health Service Management. Awarded with distinction.
1999 : Completed course work for MPH with University of Witwatersrand
2000 : Submitted dissertation on "An assessment of the economic impact of HIV/AIDS on Royal Swaziland Sugar corporation 1995-99
2001 : University of Witwatersrand
Masters Degree in Public Health
PERSONAL CHARACTERISTICS
Well developed intelligence, social and spiritual quotient
Positive life outlook with cheerful, fun seeking character
Results oriented with deadline and quality focus
Eloquent with excellent public speaking skills
Ability to interact with all levels of humanity and empathize at each level
Well honed problem solving skills based on both logical and intuitive methodologies
Respond enthusiastically to new situations and challenges
PROFESSIONAL SKILL
MB ChB, MSc, Dip. PEC, DTM&H, DPH, DHSM, MPH, FRCP
Completed several management courses including leadership, managing people, interactive skills, industrial relations management, coaching and mentoring, strategic management and Covey leadership style.
IT training in Windows NT, MS office, EPI Info, Navision
Training in ISO 14001 implementation and safety and occupational health management for the workplace
Trained in Strategic planning and developed TASO 5 year strategic plans in 2002 and 2007 and 3 year Strategic plan for PREFAR (PMTCT) in 2006 as well as IDI strategic plan 2008 -2013
LEADERSHIP AND MANAGEMENT SKILL
Ability to define collaboratively the vision, mission and action plans for unit or organization and inspire the staff to aim and achieve even beyond the plan.
Skilled in strategic planning and development of Log Frames
Effective resource mobilizing skills. The TASO 5 year 2001 -2007 budget was $80 Million which I was responsible for sourcing and raising. The IDI 5 year strategy is a $140,000,000 plan for which we are ahead of target
Skilled in managing people in particular people motivation, teambuilding, mentoring and coaching and getting results through a team based approach
Experienced in budgeting and financial management ( currently managing budget of $20,000,000 annually)
Training needs analysis, on the job coaching and mentoring, succession planning and job induction for new employees
Industrial relations including negotiations and grievance and disciplinary hearings
Use of management by objectives and key performance areas in defining outputs and indicators for monitoring and evaluation. This process is linked into 6 monthly appraisals of senior staff
Trained in workplace occupational health, safety and environmental management
EXPERIENCE IN HIV/AID
| | |
| --- | --- |
| 1982 | Worked for one year in Uganda Cancer Institute with some of the first cases of HIV related Kaposi Sarcoma. |
| 1982-85 | Worked in Nsambya Hospital and involved in managing some of the first AIDS cases in Kampala- Uganda. |
| 1986-88 | Part of UNICEF/MOH volunteers who participated in intensive HIV education campaign in schools in Kampala and Masaka. |
| 1989-92 | Started up HIV education and prevention programme in sugar industry in Swaziland targeting community of 60,000 - based on principles learned in Uganda. |
| 1992-98 | Gradually built up HIV programmes at RSSC to provide holistic prevention and care including VCT, management of opportunistic infections, TB clinic, AIDS clinic, peer education programme as well as hospital management and palliative care for terminal AIDS. In addition I provided technical input to the Swaziland National AIDS programme (SNAP) and the Federation of Swaziland Employers (FSE) . I have personally provided counseling, care and treatment to hundreds of AIDS patients. |
| 1999-2000 | Responsibilities at RSSC enlarged to include community services management. This provided more opportunity for implementing a multi-sectoral approach on a local level with involvement of schools, communities, churches, unions etc in an expanded HIV prevention and care programme. Pioneered in Swaziland the inclusion of HIV/AIDS into a comprehensive Employee Assistance Programme. |
| 2001 - 2007 | CEO – The AIDS Support Organization of Uganda (TASO) Executive Director of the largest AIDS care and support organization in Sub- Saharan Africa supporting 100,000 HIV+ clients with an annual budget of $22,000,000 with a staff complement of 1200 and currently with 60,000 clients on ART. Since inception TASO is responsible for testing over 1,000,000 Ugandans and training over 30,000 African care givers. TASO has11 service centers, 4 regional centers, an international training center and a headquarters unit. |
| 2007 – today | Executive Director of the Infectious Diseases Institute which is part of the College of Medicine of Makerere University. The institute with a staff of 1000 provides prevention care and treatment services to 70,000 HIV+ people,(25,000 on ART) provides training in HIV, TB and Malaria to 2000 alumni per year and has 40 research projects running out of the institute. In addition we have CAP certified laboratories; one of only 6 in Africa. Since inception IDI has publishes 222 peer reviewed articles. |
 I have been a member of the interim board of the Global Fund to fight AIDS, TB and Malaria representing civil society in the process of setting up the fund. I have also been the vice-chair of the Global Fund Technical Review panel for a 2 year period 2002/2004. I have served as a board member for the Regional AIDS training Network (RATN), for Mulago, Mbarara Joint AIDS programme (MJAP) and for the Aids Information Center (AIC) in Uganda. Internationally I was a board member for the International Partnership for Microbicides from 2004 – 2010 serving as the Chair of the Board from 2008 - 2010. I am currently a board member for the International AIDS Vaccine Initiative. (IAVI).
 I have been the principal investigator for 3 large HIV RCT based in Tororo, Jinja and Masaka in collaboration with CDC and MRC.
 I have received several awards for my work in HIV/AIDS including the United Nations Association of the USA– Global Humanitarian action award – in 2003 and the Philly Lutaaya award in 2004 as well as the Rotary Club award in 2004.
WORK EXPERIENCE
Summary
 Over the 30 years of my career I have demonstrated increasing managerial and leadership responsibility for leading and inspiring teams to accomplish challenging targets while maintaining quality. In the past 12 years I have led country wide scale up of HIV programs in Uganda as well as capacity building for health workers in HIV, TB, malaria and health systems strengthening for the African continent. I tackle challenges with evidence based logic, use of innovative thinking and inspiring the entire team to focus on the challenges and craft appropriate solutions. I am also an accomplished public speaker, activist and resource mobilizer.
October 2007 – present
Executive Director of the Infectious Diseases Institute (IDI)
 The institute established in 2004 is part of the College of Medicine of Makerere University. The Institute with a staff of 1100 provides prevention, care and treatment services to 70,000 HIV+ people (25,000 on ART), provides training in HIV, TB and Malaria to 2000 alumni from Africa per year and has 40 research projects running out of the institute and a total of 75 active projects in all departments with an annual value of $20,000,000. We have cumulatively published 222 peer reviewed articles. In addition we have a CAP certified laboratories one of only 6 in Africa. IDI has also large HIV prevention care and treatment programs in 7 districts in Uganda including PMTCT, Male circumcision and capacity building for all the regional hospitals in Uganda. In addition we provide capacity building for scale up of TB and Malaria diagnosis and treatment in 50 out of 100 districts in Uganda. I report through to an independent board that in turn is accountable to Makerere University.
June 2001 – September 2007
Executive Director for The AIDS Support Organization (TASO).
 TASO is one of the oldest and largest organizations in Africa that provides the full scope of services for HIV+ and their families. The organization provides prevention, care and support services for 100,000 HIV+ clients through 15 decentralized centers in Uganda. In addition there is a training unit that provides training for capacity building both nationally and regionally. In 2006/7 before I left I managed a staff of 1200 and a budget of US $22,000,000. I reported through to a democratically elected Board that included 2 people living with HIV/AIDS. In the 6 years I was with TASO I transformed the organization through expansion to 4 new sites, expanded funding from US $3,000,000 per year to US $22,000,000 per year, and also started TASO clients on an ART Programme which currently reaches 60,000 people. TASO has trained over 30,000 africans in the field of HIV and teste4d over 1,000,000 Ugandans.
Feb 1999 – March 2001
Community and Health services manager for Royal Swazi Sugar Corporation.
 My role was to provide overall leadership and vision for those areas of the company that are not directly related to sugar production. My brief was to head a team that looks after two townships with a population of 30,000. Apart from responsibility for the health services, this position included responsibility for education – including 5 schools, social services, country club, security, township planning and maintenance. In addition I was responsible for public health programmes and safety in the two townships and a strong component of community development and support for income generating activities in the community. I managed a budget of $4,000,000 annually with a total workforce of 400.
 Outside of the company I was a volunteer resource person for WHO in the areas of Malaria control, HIV/AIDS sero-surveillance and emergency public health planning. I have also resourced for the Swaziland national AIDS programme and the Swaziland Malaria control programme in a wide range of seminars and educational activities.
October 1996 – Feb. 1999
Health Service Manager for Royal Swaziland Sugar Corporation.
 In charge of health services for workforce of 4 000 and community of 30 000. In charge of workforce of 44 employees with annual budget of US$800 000.
April 1989 - September 1996
Medical Officer in charge of Ngomane Clinic together with two other Doctors provided service to a community of 10,000.
January 1988 - April 1989
i) Lecturer, Department of Physiology, Makerere University. ii) Warden, Galloway Hall, Makerere University. Administrative warden for medical students hostel. Responsible for housing 100 students and feeding 500 students. Also responsible for workforce of 50 employees.
January 1985 - December 1987
i) Teaching Assistant, Department of Physiology, Makerere University.
ii) Volunteer at UNICEF, Uganda. Involved in AIDS education and training in Secondary schools in Kampala, Uganda.
June 1983 - December 1984
Intern and then Medical Officer at St. Francis Hospital, Nsambya, Kampala (second largest hospital in Uganda). We had started treating the first AIDS cases in Uganda by this time. I rotated through Medicine, Pediatrics, Surgery and Obstetrics/Gynecology.
PAPERS AND PUBLICATIONS
Coutinho AG. Malignant Melanoma in Uganda. Presented at 1st Pan African Congress on Dermatology in Arusha, Tanzania, 1981.
Coutinho AG. Iron Status in Ugandan Sicklers. Msc. Dissertation, 1987.
Coutinho AG. Malaria Patterns in North East Swaziland. South African Epidemiol Infect 1994, Vol. 9(4), p108 - 111
Coutinho AG. Diarrhoea and the use of Oral Rehydration solution (ORS) among sugar cane plantation workers in Swaziland. Do men and women have similar Knowledge, Attitudes and practices? DPH Dissertation, 1995.
Coutinho AG. Preventing complicated malaria. S Afr Med J; 1996; 86: 1429-1430.
Coutinho AG. Management of Severe and Complicated malaria in Swaziland Health units: Situational analysis commissioned by Malaria Control Programme and WHO offices – Swaziland, 1999.
Coutinho AG. An assessment of the economic impact of HIV/AIDS on Royal Swaziland Sugar Corporation 1995-99. MPH research report - University of Witwatersrand, Johannesburg, 2000.
Coutinho AG, Mkhonta F. HIV/AIDS - Human rights and ethics in Swaziland. A report prepared for UNDP - Swaziland, 2000.
Coutinho AG, The impact of HIV on the sugar industry in Swaziland - a case study. AIDS ANALYSIS AFRICA Nov/Dec 2000 edition
Coutinho AG, Kavumbura B. Is HIV/AIDS a risk factor for severe and complicated malaria? Presented at Malaria symposium for South Africa, Mozambique and Swaziland in Nelspruit, Nov 2000.
Coutinho AG, Coutinho S. The impact of HIV on the human resource function of the civil service in Swaziland. A report prepared for Swaziland Government. 2001
Coutinho AG, Muhangi L, Semakula R, Kakeeto-Lukubo M, Ochai R, Baryarama F, Hladik W, Bunnell R, Ransom R. Knowledge of partner HIV status and Condom use among HIV-positive TASO clients, Uganda, 2001. Poster ICASA 2001, Burkina Faso.
Kizito F, Coutinho A. Common medical conditions amoung HIV-positive persons in TASO, 1997-2000. . Poster ICASA 2001, Burkina Faso.
Lule JR, Mermin J, Malamba S, Downing R, Nakanjako D, Kigozi A, Wafula W, Hughes P, Kizito F, Coutinho A, Quick R. Pathogens in stools of HIV-positive persons with and without diarrhoea in Rural Uganda. . Poster ICASA 2001, Burkina Faso.
Lule JR, Mermin J, Ekwaru JP, Malamba S, Downing R, Ransom R, Nakanjako D, Wafula W, Hughes P, Bunnell R, Kaharuza F, Coutinho A, Kigozi A, Quick R. Effect of home-based water chlorination and safe storage on diarrhea among persons with human immunodeficiency virus in Uganda. Am. J. Trop. Med. Hyg. 2005; 73(5) 926-933
Mermin J, Lule J, Ekwaru JP, Downing R, Hughes P, Bunnell R, Malamba S, Ransom R, Kaharuza F, Coutinho A, Kigozi A, Quick R. Cotrimoxazole prophylaxis by HIV-infected persons in Uganda reduces morbidity and mortality among HIV-uninfected family members. AIDS 2005, 19:1035-1042
Shrestha RK, Marseille E, Kahn JG, Lule JR, Pitter C, Blandford JM, Bunnell R, Coutinho A, Kizito F, Quick R, Mermin J. Cost effectiveness of home-based chlorination and safe water storage in reducing diarrhea among HIV-affected households in rural Uganda. Am. J. Trop. Med. Hyg. 2006 74(5) 884-890
Nakayiwa S, Abang B, Packel L, Lifshay J, Purcell DW, King R, Ezati E, Mermin J, Coutinho A, Bunnell R. Desire for children and pregnancy risk behavior among HIV-infected men and women in Uganda. AIDS Behav DOI 10.1007/s10461-006-9126-2
Kaharuza F, Bunnell R, Moss S, Purcell DW, Bikaako-Kajura W, Wamai N, Downing R, Solberg P, Coutinho A, Mermin J. Depression and CD4 cell count among persons with HIV infection in Uganda. AIDS Behav DOI10.1007/s10461-006-9142-2
Mermin J, Ekwaru JP, Liechty CA, Were W, Downing R, Ransom R, Weidle P, Lule J, Coutinho A, Solberg P. Effect of co-trimoxazole prophylaxis, antiretroviral therapy, and insecticide-treated bednets on the frequency of malaria in HIV-1-infected adults in Uganda: a prospective cohort study. Lancet 2006; 367: 1256-61
Bunnell R, Ekwaru JP, Solberg P, Wamai N, Bikaako-Kajura W, Were W, Coutinho A, Liechty C, Madraa E, Rutherford G, Mermin J. Changes in sexual behavior and risk of HIV transmission after antiretroviral therapy and prevention interventions in rural Uganda. AIDS 2006; 20: 85-92
Apondi R, Bunnell R, Awor A, Wamai N, Bikaako-Kajura W, Solberg P, Stall RD, Coutinho A, Mermin J. Home-based antiretroviral care is associated with positive social outcomes in a prospective cohort in Uganda, J Acquir Immune Defic Syndr 2006;
Mbulaiteye SM, Katabira ET, Wabinga H, Parkin DM, Virgo P, Ochai R, Workneh M, Coutinho A, Engels EA. Spectrum of cancers among HIV infected persons in Africa: The Uganda AIDS-cancer Registry Match Study. Int. J. Cancer 2006; 118, 985-990
Coutinho A, Mermin J. Integrating tuberculosis and HIV services in Africa. (Ed) INT J TUBERC LUNG DIS 2008 12(7):702
Coutinho A, Roxo U, Epino H, Muganzi A, Dorward E, Pick B. The expanding role of civil society in the Global HIV/AIDS respose: What has the presidents emergency program for AIDS reliefs's role been? J Acquir Immune Defic Syndr 2012;60:S152–S157) (in press)