Prof. Miriam K. Were-Lecture at the United Nations University, Tokyo
2008 Hideyo Noguchi Africa Prize Laureate;Medical Services
On the occasion of Commemorative Lecture
at United Nations University, Tokyo.
29th May, 2008.

OPPORTUNITIES FOR TRANSFORMING HEALTH STATUS IN AFRICA
PREAMBLE
I am deeply honoured to be here with my husband, Humphreys, and others from Kenya to give this Commemorative Lecture as the 2008 Hideyo Noguchi Africa Prize Laureate for Medical services given by the Government of Japan. I am also greatly honoured to be here with my co-winner, Brian Greenwood and his wife, Alice. We thank Japan very much for this honour to Africa and to our work along with those we have worked with in the health sector over many decades. In 2007, the African Heads of State endorsed the AFRICA HEALTH STRATEGY approved by Africa's Ministers of Health. By linking the awarding of the first HIDEYO NOGUCHI AFRICA PRIZE to the 2008 TICAD, Japan has underscored the importance of the health sector to the development of Africa. The huge burden of disease on Africa reduces productivity and consumes resources already severely short. We appreciate this highlighting of the health sector as HEALTH IS THE BEACON OF AFRICA'S DEVELOPMENT and needs to be a priority sector in development efforts. We appreciate the special relationship between Japan and Africa through TICAD as Japan was the first country to invite African Heads of States for consultation on development. We would like to see this link get stronger and stronger to the benefits of both sides!
1. DOMINANT HEALTH PROBLEMS AND THEIR CONSEQUENCES
1.1. There's Need to Link Evidence from Health Research to Policy/Practice
Opportunities for transforming health status in Africa are highly dependent on application of evidence and persistence in the spirit of Dr. Hideyo Noguchi. In the 1990's we in East Africa began to systematically address the problem we had noted for years: that very little of the available evidence from health research ended up in health policy and practice. It was also noted that policy makers had no opportunity to provide their questions to researchers and thus have them addressed by researches. There was therefore no communication between health researchers and policymakers/practitioners as shown in the figures below.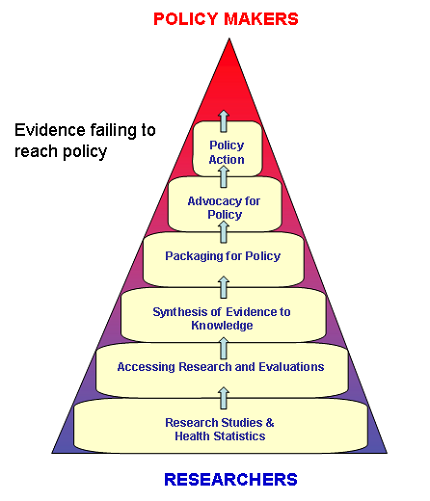 Figure 1. Despite the large base of knowledge and evidence, they are inadequately used in shaping policy and practice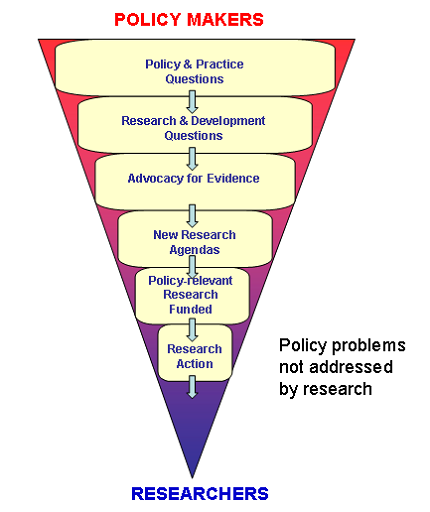 Figure2.Despite pressing policies and practice questions, the research agenda is often irrelevant to these 2 needs.
With financial support from the International Development and Research Centre (IDRC) of Canada, East African Health Researchers and Policy Makers undertook consultations at national and regional levels beginning in 1995 on how to bridge the gap. These consultations underscored the problem of how little research findings influence the quality of health of our people. Further, the consultations revealed that even when attempts were made to make use of evidence, there was lack of persistence in implementation and financing. These realities had contributed to the current huge disease burden in Africa. These consultations have resulted the establishment of the Regional East Africa Community Health Policy Initiative(REACH-Policy Initiative) as an institution based at the Headquarters of the East African Community in Arusha. Research institutes in each country, e.g. KEMRI in Kenya, have the responsibility of coordinating national inputs into the workings of this REACH-Policy Initiative institute. We expect bridges to be established between the two streams as shown in the following diagram with positive outcomes.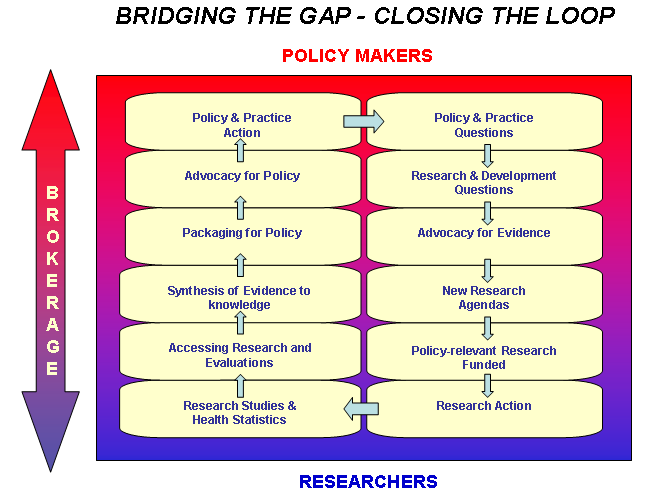 1.2. Various Ecological/Climatic Zones in Africa
Africa's geography affects its health in its North-to-South stretch. The most northerly point in Tunisia is at latitude 37°21' N and the most southerly point in South Africa is 34°51'15" S. This results in Africa having diverse climatic conditions, including the tropics and temperate zones and this impacts on health. The North borders the Mediterranean Sea and is close to Europe and shares some of the climatic conditions with Europe. This Northern part is also geographically close to the Middle East. So sometimes the countries in North Africa are grouped within the Middle East region of the world.
MAP OF AFRICA SHOWING PROXIMITY TO EUROPE AND MIDDLE EAST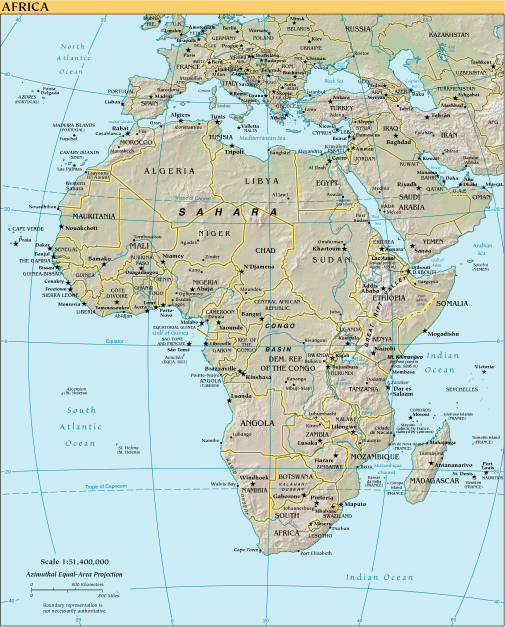 THE SUB-SAHARA COMPONENT OF AFRICA
There is a "belt" south of the Northern Africa part. This is the Sahara desert. This desert is very dry and dusty with little to support life but some people live in it. The portion of the African continent south of this Sahara desert is referred to as SUB-SAHARA Africa. This is where we, the majority and black people of Africa, live. This talk is with reference to the health situation in Sub-Sahara Africa.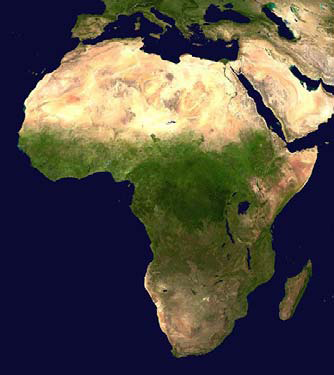 1.3 High Disease Burden from Diseases of Poverty Dominant in Africa
In terms of population, Sub-Sahara Africa has about 10% the world's population and yet it carries over 25% of the world's disease burden.
Diseases grouped as DISEASES OF POVERTY are responsible for most of the disease burden in Africa. These diseases of poverty include: tuberculosis, malaria and HIV/AIDS; preventable and/or treatable childhood diseases such as polio, measles and pertussis; diarrhoeal diseases, parasitic diseases and malnutrition. All these are poverty-related diseases and cause high levels of mortality in low income countries. These infectious diseases of poverty are generally placed in 5 categories:
Infectious and parasitic diseases
Respiratory infections
Perinatal and maternal conditions
Nutritional deficiencies
Tropical diseases
(Source: Sievens, Philip Diseases of poverty and the 10/90 Gap. International Policy Network; 2004 pg.5)
Maximum damage from diseases of poverty is on children under five years of age and pregnant women.
As will be seen later, the consequence is high mortality in these groups. The dominance of Malaria in Africa (cited among the diseases of poverty) can be seen in the following diagram. My colleague has addressed this.
a) Global Distribution of Malaria Transmission Risk, 2003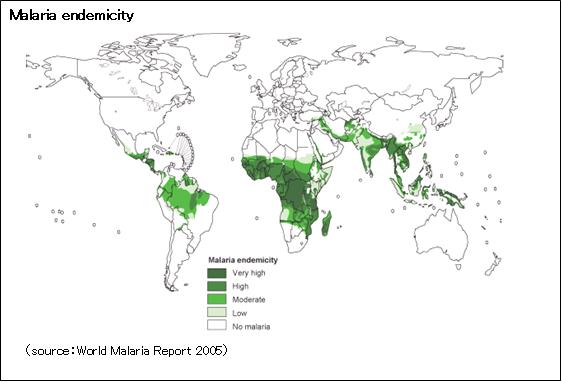 b) Also Dominant Is HIV/AIDS as can be seen in the graph & map below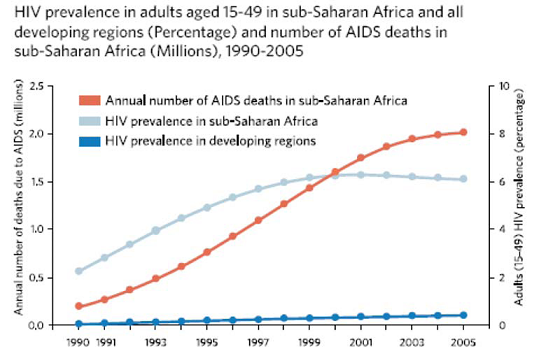 WHO, The Millenium Development Goals Report 2006.
Distorted map of Africa in a World map showing territory size according to the proportion of all people aged 15-49 with HIV worldwide, living in each area.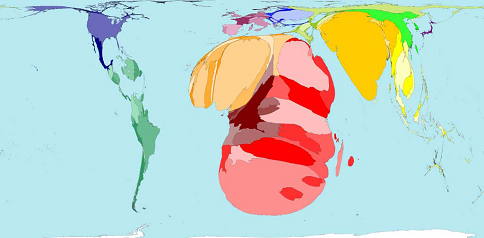 Source: World Mapper http://www.worldmapper.org/display.php?selected=227
The bloated out distortion of the map of Africa is indicative of the huge HIV/AIDS burden that Africa carries.
c) Diseases Linked To Lack of Management of Human Waste.
In 1970 during my studies in Medical School, I undertook a study to find out what diseases were responsible for the majority of admissions to the National
Referral Hospital; the Kenyatta National Hospital. To my great surprise, I found that over 70% of admissions were related to lack of proper disposal of human waste. Most of these diseases fall in the category of infectious and parasitic diseases among the diseases of poverty.
After qualifying as a Medical Doctor in 1973 and working at the Kenyatta National Hospital in Nairobi, I continued to see the important role of the faeco-oral connection in admissions. I joined the teaching staff of the University of Nairobi Medical School in 1974 (Department of Community Health) and got opportunity to talk about latrines and their important role in health status. Many senior Medical Doctors saw this as a "mundane topic" to bring up in a Medical School. They wanted to focus discussion on "important academic issues". So they sarcastically nicknamed me Professor of Latrines long before I got to that professorial status. This was meant to insult me but I was not insulted! My response was and still is that it is a great professional honour to be known by this title in view of the importance that proper management of human waste could play in the health development of our country! Whether this was "academic" or "mundane" is still irrelevant!
From the beginning, it was clear to me that Community Participation could play a major role in health promotion by establishing proper management of human waste and being involved in other health-promotive and diseases preventive activities. But because our people in their communities had been ignored in most development work, it was not clear how to involve them. Therefore, in the period 1976-1982, I carried out research work on People's Participation in Their Own Health Care from the perspective of the community. By the end of this research work, there was reduced morbidity due to improved management of human waste. In 1982, UNICEF published my book ORGANISATION AND MANAGEMENT OF COMMUITY-BASED HEALTH CARE which has been reprinted since.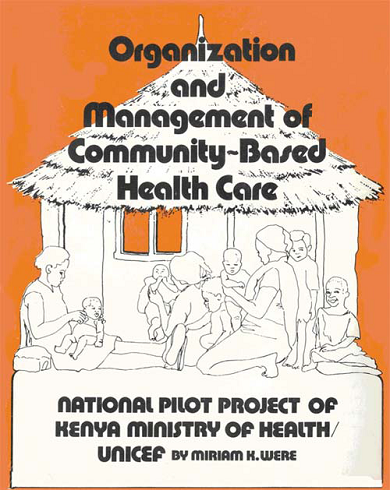 1.4 Some consequences from high disease burden in Sub-Saharan Africa
a) Mothers of Africa die more than Mothers in other parts of the world
1 in 16 women in Sub-Sahara Africa are at risk of dying from maternal death in comparison to 1 in 2,800 women in the developed regions of the world' The socio-economic circumstances predispose them to this. The table below shows comparison of risk of maternal death among regions of the world.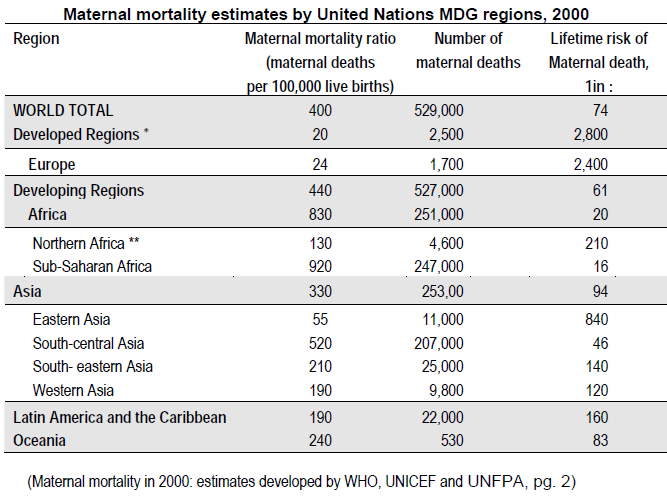 The death of a mother, especially in Africa, is a huge tragedy to the family and community. Children whose mothers die hardly survive. Even when they do, their performance in school and life tends to be compromised. Husbands also tend to get "derailed" when wives die. Therefore high maternal deaths are obstructing Africa's development efforts.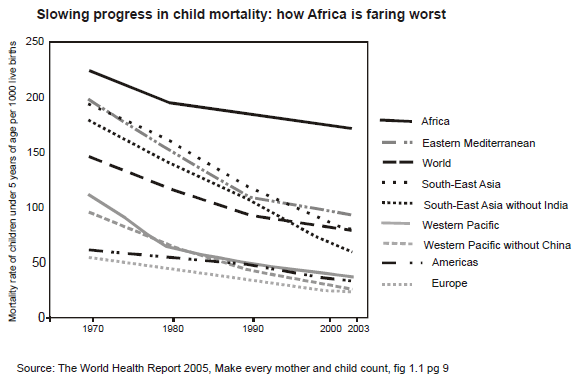 Sub-Sahara Africa is only about 10% of the world population but provides over 30% of child deaths. High child deaths result in rejection of family planning which further compromises maternal well being.
c) Challenges from HIV/AIDS undermine Life Expectancy in Africa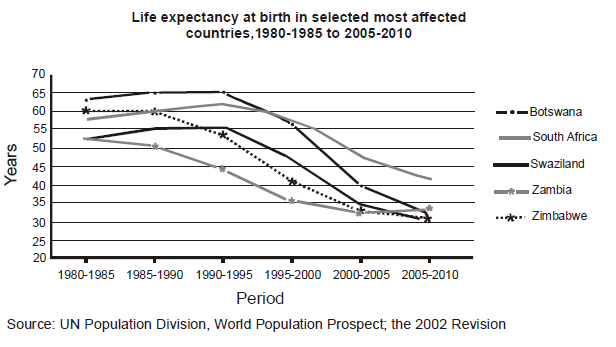 It is ironic that while life expectancy in developed regions edges upwards towards 80years, in Africa it going downwards towards 30 years.
2. OBSTACLES TO IMPROVING THE HEALTH STATUS IN AFRICA.
2.1 Socio-political Instability
People from other regions of the world often ask Africans why there is political instability and a poor development record nearly 50 years after political independence. This question ignores the following;

a. The Brutal and massive transatlantic slave trade from the early 1400's to the late 1800's (500 years) that kept the continent disorganized and on the run. Africa lost millions of its citizens in their most productive period of life. Furthermore, the methods used for catching slaves were brutal. E.g.
Burning down villages to catch slaves in the stampede created.
Ambushing weddings and other joyful occasions to catch slaves.
Turning neighbor against neighbor when some became Slave Catchers.
Raping women in the presence of their family members as a method of subjugating a people's dignity & effacing the confidence of a race.
It should be remembered that this went on for centuries; not decades. Serous brutality, insecurity and mistrust were entrenched into relationships.

b. Colonial and Apartheid Period 1884 - 1994 were marked by continuing brutality, exploitation and disorganization of the continent for another 100 years. Even though European colonizers had colonies in other parts of the world, evidence shows that the oppressive colonizing methods were most brutal in Africa. This apparently arose from the racist view of black people as sub-humans that had been entrenched during the Slave Trade to assuage the "Christian" conscience of the colonizers.
History has a long shadow. These periods of over 600 years have resulted in social inheritance of disempowerment of Africans that still affects Africa.

c.The dynamics of the cold war coincided with the period in which African states acquired their independence. This became a period of each camp in the cold war entrenching dictators over African people. These dictators continued the oppression and destruction of the African people and mismanagement of national resources as the old masters had done; sometimes rising to higher levels of brutality.
I do not draw attention to these atrocities to settle scores, but to point out that while looking at the present day in Africa, these brutal realities, need to be kept in mind. It is important to remember that for Africa, independence did not mean a level playing ground to push development forward. Rather it was and still is a matter of climbing out of a hole 600 years deep. It helps us when Africa is looked at with compassion and positively. It was so encouraging to see the TICAD IV brochure with a title VIBRANT CONTINENT and a lovely African child on it. It was so different from the lead article of a well known international magazine, which a few years ago, declared Africa as "THE HOPELESS CONTINENT". There is no doubt that Africa needs to get out of constant social upheavals and instability into which history helped to push us. We hope that we can do this with the help of Africa's genuine friends
2.2 Africa lives in absolute poverty
Living in absolute poverty oppresses, depresses and establishes apathy and a lethargic outlook to life among the affected people. And, as has already been pointed out, high levels of poverty lead to rampart diseases of poverty. Even at present, it is difficult to see a way out of absolute poverty and given the history already referred to and current global dynamics. E.g. Currently those related to the Doha Round of talks (WTO).
But one keeps the faith that the humane spirit will prevail in the word. At least we trust that among power-brokers in international relationships, there are some who are humane! Otherwise why the talk about human rights when circumstances are made to prevail that make it impossible for large groups of people to even experience the basic human right to health?
The figure below depicts three levels of the Human Development Index arranged in a colour scheme. The majority of African countries fall in the low income index group indicative of high levels of poverty.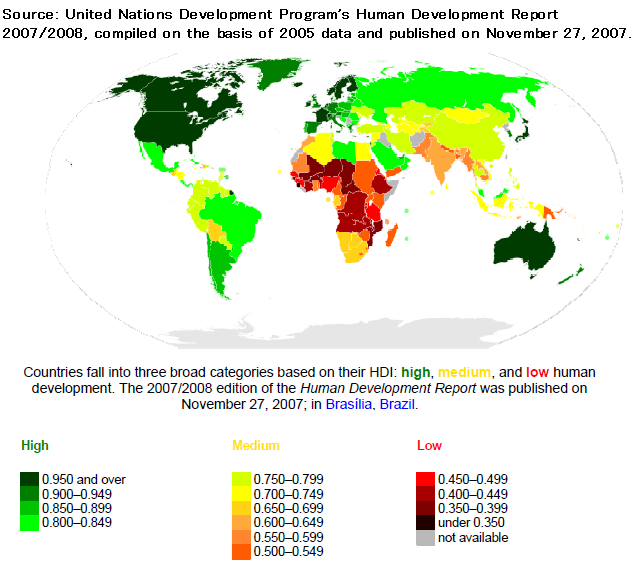 2.3 Overwhelmed Health Workers
It is often forgotten that in Africa health workers themselves are surrounded by absolute poverty and affected by the oppressiveness of absolute poverty. Their earnings are not just for themselves or their immediate family as they also provide for many others. Furthermore, in most low income countries, the equipment and medicines to work with are often missing. In situations when the number of the sick coming for health care are so overwhelming, this is often heart-breaking.
It is no surprise that many African health workers who get an opportunity to work outside of Africa leave Africa. No wonder Africa has a severe crisis from the shortage of health workers. Out of 57 countries classified in the world to be in a health workforce crisis due to shortages, 36 are from Africa.(Global Health Workforce Alliance & WHO).
Fortunately, not everyone leaves Africa. However, it is often difficult to be creative and optimistic in facing up to these challenges. And yet without a creative outlook, it is virtually impossible to find solutions.
3. OPPORTUNITIES TO PARTICIPATE TRANSFORMING AFRICA'S HEALTH STATUS.
3.1 You can SEE the difference you make!
Cleaned up homes!
Cleaned up rivers/protected springs!
Constructed & used latrines with reduced morbidity!
Dropping rates of HIV infection!
Well cared for People Living With AIDS. (PLWAs)!
Bouncing healthy children!
Old people receiving palliative care! e.t.c
Name any health challenge and address it and YOU CAN SEE THE POSITIVE DIFFERENCE YOU MAKE IN A SHORT TIME! This is what has kept me going. I am looking for partners to revive interest in latrine construction & use both in homesteads & Public Latrines in schools, places of worship & market places. We are looking for those interested in being part of the excitement of making positive changes in transforming Africa's health status.
3.2 You can participate in improving efficiency and increasing effectiveness.
Many of us in Africa are coming from an environment in which there was no plan to live by. How do you develop the habit of planning when you have nothing to plan with and no resources to plan for? You simply live one day at a time and wait on luck and/or God. So we desperately need HUMANE Health managers to work with us; People whose history has been less oppressive and who can be creative in humane ways.
In my contacts with Japanese professionals I note that you are meticulous planners and at the same time very gentle! Come and work with us because this would encourage our young professionals
3.3 You can carry out research while still enjoying outdoors.
When I was in medical school, I found both Anatomy & Biochemistry enjoyable. But I couldn't have had a career in either of them because one had to stay in doors to do the work. Given a choice, I prefer to work in the sun! It was a joy to also discover the field of Operations Research that includes research outside a room. It was great to discover during my Public Health studies at John's Hopkins University in USA that field work could constitute respectable research! Come help us plan how to establish effective & efficient ways to reduce child and maternal deaths through field and operations research.
3.4 Research in the Laboratory is also possible!
I know many young professionals doing great work in laboratories across Africa. There are institutions like KEMRI in Kenya & NOGUCHI in Ghana where this is happening. Opportunity to work in laboratories are plenty!
3.5 Work with young people.
Come and work with us with young people to help them transform their lives and the lives of their community. In 1995, my husband & I helped sponsor UZIMA Foundation that is working with youths on health & related matters. You get so much from so little! Come work with us.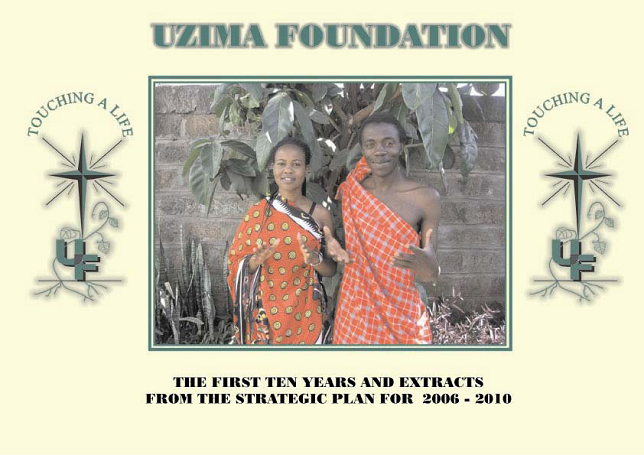 3.6 Help change the outlook on Africa!
We black Africans are not a "gone case" even if some people try to give us that name! Join us in working on modalities to unlock the traps around Africa that keep us in poverty that are increasingly coming from arena of international dynamics! Africa also needs non-African advocates.
3.7 Help us make the World a better place for all!
It is not for nothing that this is a United Nations University! I would like to think that is not located in Japan by accident.
The United Nations was established to protect humanity; to put wars behind us and help the world move forward in peace. The community spirit of the United Nations must not be dampened. We need the United Nations now more than ever! We need to use it to establish a fairer world with a fairer playing ground on trade and in other fields so that the weak are not crushed more downwards but helped to blossom like Japanese cherry trees! We need to protect the environment in the spirit of Kyoto. We need to create a world in which we, our children and grand children will thrive! All of us! Together.
Isn't it wonderful when we reflect and realize that we put a smile on someone's face?
Isn't it wonderful to see a child moribund with malaria open eyes & ask for something to eat following treatment?
Isn't it wonderful to realize that you saved children from becoming orphans because you saved the mother from obstructed labor? And parents from HIV/AIDS?
Isn't it wonderful to see hope return to eyes that had become hopeless because of HIV/AIDS until you touched them?
Isn't it wonderful to see people marginalized because of race, tribe or sex orientation stand up with confidence because this world belongs to them, too?
Isn't joyful to count the young people in millions that you have helped keep from:-
The physical disabilities of polio?
The mental retardation of measles and other diseases?
What an exciting life it is knowing that you opened a door to a bright future for a fellow soul in this world?
Compassion is the missing ingredient in development work. Yet this is particularly needed in the health sector. With the Japanese tradition of meticulous planning & meticulous approach to work, if this is done in the context of compassionate relationships, what could go wrong? What could keep the world down?
I think we can be effective and efficient while working in a compassionate way. Yes we can!
Let us help make health the beacon of development in Africa and anywhere else where there is need.
People tell me that we Africans pray a lot because we have nothing. Well, I can assure you that even after getting the prize money from the HIDEYO NOGUCHI AFRICA PRIZE, I will continue to pray! Let me, therefore, end with the opening line of my favorite prayer.
Lord,
Make me an instrument of peace;
Where there is hatred,
Let me sow love;
Where there injury,
Let me sow pardon;
Where there is doubt,
Let me sow faith;
Where there is despair;
Let me sow hope;
Where there is darkness,
Let me bring Light;
Where there is sadness,
Let me sow Joy!
(Adopted from the prayer of St. Francis)
Thank you very much for your kind attention. I sense that you are holding hands with me and through me, with the continent of Africa with compassion as we walk into a future of hope together. We in Africa reach out to you with compassion & friendship.
THANK YOU and Blessings to you all my Sisters and Brothers, my Sons and Daughters and my Grand children gathered here today at this great institution:- The United Nations University in Tokyo.
Mama Miriam