Updates on activities of Prof Miriam Khamadi Were (The Laureate of the First Hideyo Noguchi Africa Prize for Medical Services)
2019
Please see also the updates of 2015:Newsletter No.11
Updates on activities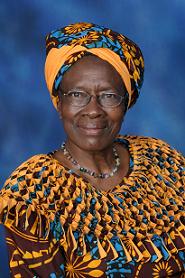 The first time the prize was given in 2008, I was awarded the Hideyo Noguchi Africa Prize for Medical Services. It was and has been a powerful experience for me. To be truly powerful, the prize has to receive recognition beyond individual Laureates. Experiences since then indicate that, indeed, for me this prize has received recognition.
1 International Recognition:
a) Champions for An AIDS-Free Generation in Africa
The foci of this group are African Heads of State for high-level advocacy for policy and domestic financial mobilisation towards HIV/AIDS National Responses. Amongst the reasons the Founding Chairman of the Champions, former President of Botswana, H.E. Festus Mogae, gave for inviting me to join former Heads of States in The Champions was the successes I had had in Kenya's National AIDS Control Council (NACC) and having been awarded the Hideyo Noguchi Africa Prize. To date I am a member of this group that has had audience with African Heads of State in many African countries. The latest one was in June 2018 in South Africa.
b) A key Player in the movement for Universal Health Coverage (UHC)
Prior to and following the 2015 agreement on Agenda 2030 for Sustainable Development Goals, I have been involved in and recognised as a key mover of Community Participation in health and development. My key statement on this matter is "If it does not happen in the Community, it doesn't happen" I was one of the speakers at the UHC FORUM, 2017 Tokyo and took part in decision-making side events. One key success in the UHC movement has been the MCH Handbook Movement as a Global Tool for Improving Mother and Child Health. I am a member of the International Committee of MCH Handbook, under the leadership of Professor Yasuhide Nakamura. In 2012 and 2015, the International MCH Handbook Conference came to Africa for the first time in Kenya (2012) and the second time in Cameroon, 2015.. The slogan I have articulated is "If we improve the health of all African mothers and children, we shall improve the health of all Africans". In November 2018, I attended the 11th conference in Bangkok where I was a keynote speaker and also gave the closing speech. This Conference was graced the presence of Her Imperial Highness Princess Akishino of Japan.
2 Recognition at the National Level as Hideyo Noguchi Africa Prize Laureate has come in many forms including:-
a) The Government of Kenya recognised the importance of Community Health by creating an Ambassadorial level position for Community Health in 2011 and I was appointed the first Goodwill Ambassador for Community Health Strategy in recognition of my contribution to the Community approach towards national health development under the slogan, "If it does not happen in the Community, it doesn't happen. If it happens in the community, it happens in the nation." This approach has galvanised on-going national efforts towards attainment of UHC in Kenya. Currently, I am involved in an advisory role to the Community Health and Development Unit of the Ministry of Health, in Community and Development activities of Churches as well as Women's Groups-Chamas. The on-going continent-wide advocacy and technical guidance by the African Medical and Research Foundation, AMREF, whose Chairman I was in 2003-2008, is leading to greater achievement in health targeting continent-wide attainment of UHC on time.
b) Recognition beyond the health Sector has resulted in expanded involvement in national developmental efforts. Key among these was appointment in 2013 to the position of Chancellor of Moi University, the first woman to hold that position in a large Public University. Chancellor is the topmost position in University structure and this gave me access to interact with students in general and those in the College of Health Sciences and those receiving PhD degrees in particular.
Message to the next generation of medical scientists working in Africa
One of the encouraging features on the African scene is that plenty of medical/health research is taking place. And much of this research is by young medical/health scientists. With this next generation of medical scientists, I would like to share some thoughts.
1 Thank You Very Much For What You Are Doing!
Many of you are doing great work in Africa in medical/health research in various fields. These include research in the fields of Ebola, HIV/AIDS, neglected communicable diseases, reproductive health, neonatology and so on. A lot of this research is carried out in rather difficult circumstances of poor facilities, inadequate equipment and so on. In spite of these difficulties and even lack of recognition, you keep on going because you know the importance of the work you are doing and this is what is important to you. Thank you so much for keeping on. This is very much appreciated.
2 There Have Been Great Achievements by the Independence Generation!
At a glance on the African health scene, one tends to be preoccupied by the ongoing health / medical challenges. While this is true, it is also important to remember that a lot has been achieved by the generation of medical /research scientists working in Africa in the period since African countries began to attain political independence from the late 1950s. Among these scientists are the Laureates of the Hideyo Noguchi Africa Prize. Remarkable progress has been made in the areas of control and management of Malaria, HIV/AIDS, Adolescent reproductive health and in involvement of communities in the improvement of their own health care. Work with communities has included validation of community action as an important factor in the health sector. This is even more important in this era of UHC. Working with communities has also included return of the element of CARE in the provision of services so that health service provision is not mechanical or impersonal. All these have contributed to the improvement of health in Africa over time. So even today what you, younger generation of medical/research scientists working in Africa, are doing every day is of great importance and is contributing to the improvement of someone's health now or in future even if you don't see it. So keep up your courage and keep going!
3 But still A Lot of Challenges Need To Be Addressed For Africa's Health Improvement
When establishing the Hideyo Noguchi Africa Prize in 2006, the government of Japan noted that the scourge of infectious diseases was most acutely faced in Africa. The subsequent outbreak of the Ebola epidemic validated this understanding. This scourge spreads across the whole health spectrum. Sub-Sahara Africa with only about 10% of the global population disproportionately carries 25% of the global disease burden. This calls for continued and even stepped up efforts in medical/health research and services in order to improve the health and welfare of African people. Some of the areas that still need continued energetic attention are:-
a) Linking formal health systems with communities.
We have noted that improving health status in a few isolated urban centres still leaves the national health status in chaos. If it doesn't happen in the community, it doesn't happen! If it happens in the community, it happens in the nation. For an individual research scientist, involvement at the community level in one's area of research could take the form of partnering with a Community Health Worker or a group of them and visiting them in their communities of work to share experiences. This way, young scientists working in Africa would deepen their understanding of how their research undertakings could be of values at community level.
b) Linking your individual research to the big picture
By its very nature, carrying out research arises from an intense and deep interest by a researcher in a particular issue or topic. It is, therefore, easy to forget that the rest of the world exists and that there's need to interact with the bigger picture. It is important to overcome this isolationist perspective. An example of how to overcome this isolationist tendency is for the researcher to identify research findings from the past carried out in his/her area of interest to ensure that you are building on those findings or at least relating to them. Another example is to make it your business to look into the extent to which research findings are used through inclusion in health policy formulation and practice at national and regional levels. Unfortunately, because of minimal attention on this issue, a lot of research findings that could transform health in Africa remain on the laboratory and other shelves. I challenge you, young medical/health scientist, to ensure that your findings will not remain on shelves by working on ensuring that the findings of past researchers become translated into policy and practice until this becomes the norm.
c) Maintain a compassionate outlook in all your health work
Write-ups on health work are full of episodes from around the world in which health professionals forget the whole person and reduce her or him to "the kidney case", "the heart case" and so on. Yet even if a health problem is localized in the kidney, this problem affects the whole person! Focusing only on the health problem often ignores the fact that one is dealing with a human being. So always remember the importance of the whole human being and that the person has rights. The foundation of human rights is health. And the foundation of health is compassion. Therefore, in your dealings with people, especially when they are sick, endeavour to be compassionate. Remember that in most cases people don't care how much you know unless they know how much you care.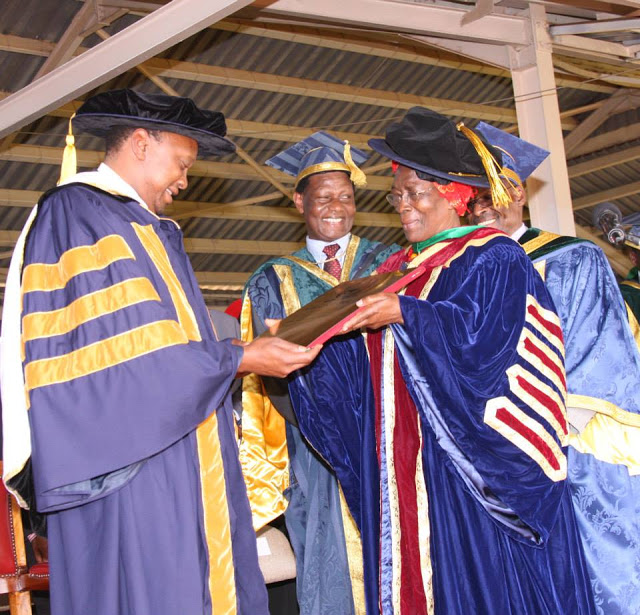 Professor Miriam K. Were, Chancellor Moi University, confers to H.E. Uhuru Kenyatta, President of Kenya, with Doctor of Letters in Literature, (D. Litt), Honoris Causa, of Moi University on 19 September 2013 during the institution's 29th graduation ceremony in Eldoret, Kenya.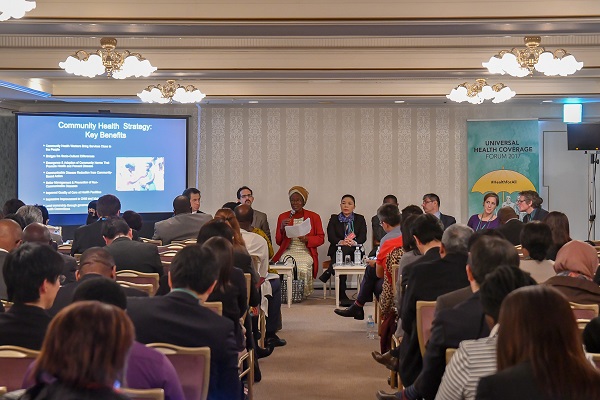 Professor Miriam K. Were presents Kenya's Community Health strategy and experiences at the high level UHC Forum held in Tokyo in December 2017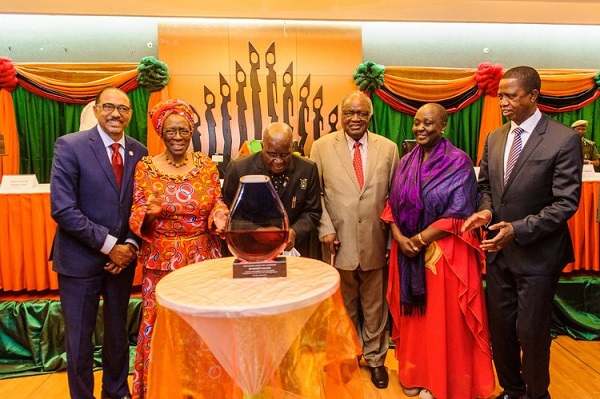 Professor Miriam K Were together with fellow Champions for an AIDS-Free Generation at the presentation of the UNAIDS Leadership Award in May 2018.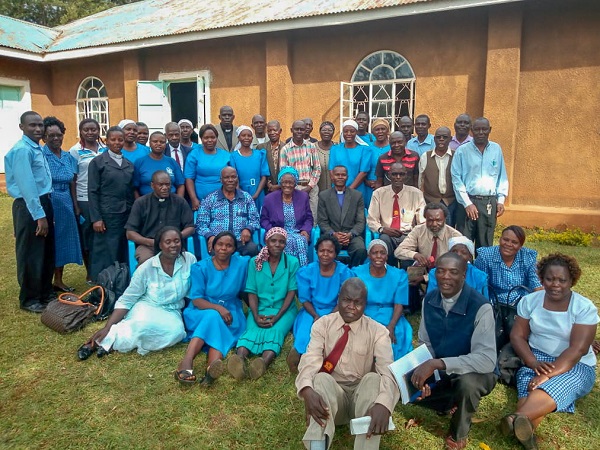 Prof Miriam K. Were and her husband, Canon Humphreys R. Were, hold a community empowerment forum focusing on health, food security and well-being in Western Kenya.