- Profile - Prof. Miriam K. Were
PERSONAL PARTICULARS
Date of birth: 12th April 1940, Kenya
EDUCATION
1964 William Penn College, IOWA USA
1966 Makerere University College, College of University of East Africa
1973 University of Nairobi
1976 John Hopkins University, Department of International Health
1981 John Hopkins University, Health Planning and Management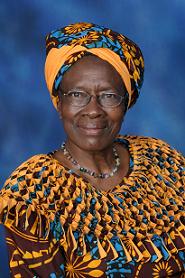 DEGREES AND DIPLOMAS
1964 Bachelor's degree (BA) in Natural Sciences with composite major in Biology,
Chemistry and Physics
1966 Post graduate Diploma in Education: a teaching qualification
1973 Bachelor of Medicine and Bachelor of Surgery, (MB ChB)
1976 Master of Public Health, Department of International Health
1981 Doctor of Public Health, Health Planning and Management

HONOURS AND ACADEMIC PRIZES
1978 UNICEF Maurice Pate Award
1980 George P. Tolbert Health Award
2000 International Order of Merit (IOM)
2005 Elder of the Order of the Burning Spear of the Republic of Kenya
2006 Medal of the Italian Cabinet The Eve Woman of Year Award in the Academia Category
2007 The Queen Elizabeth II Gold Medal World YWCA Women Leading Change Awards
EMPLOYMENT HISTORY/PROFESSIONAL RESPONSIBILITIES
Current Membership on Boards/Councils through which she exerts influence
On the Board Trustees, UZIMA Foundation, from registration in 1995 to date. Was Founding Chairperson up to 2001 and Member of the Board of Trustees to date. This is a Charitable Trust registered in Kenya. "Uzima" is the Kiswahili word for "abundant life" or "good quality life" that the youth yearn for. The focus is onYouth Empowerment through improved health including control of HIV/AIDS and Malaria; Economic Empowerment through Youth Enterprise Program; Promotion of Justice, Peace and Good Governance; Compassionate Acts and Clean & Safe Fun.
By Presidential appointment, Chairman, National AIDS Control Council, NACC, March 2003 to date. NACC coordinates the work and inputs of National and International Stakeholders in Kenya's National Response to HIV/AIDS. The 2005 & 2006 UNAIDS Update Reports on the global HIV/AIDS situation cited Kenya's achievements as a best practice in a number of key areas. Trend maintained with prevalence rate reduced from 14% in 2000 to 6.8% in 2003 and to 5.1% in 2006 and new infections from 120,00, then 85,000 and to 55,000 by 2006.
Chairman, International Board of Directors of the African Medical and Research Foundation, AMREF from February, 2003 to date. On the Board since 2001. This is the largest health NGO founded and based in Africa, AMREF's mission is to improve the health of disadvantaged people in Africa as a means for them to escape poverty and improve the quality of their lives. While Chair of AMREF Significant expansion of medical services has occurred resulting in the increase of the annual budget from US$19 Million in 2003 to US$ 60 Million in 2007.
A member of the Advisory Board of the Kenya AntiCorruption Commission (KACC) since its establishment in August, 2003 to which she comes from the Kenya Medical Association (KMA). KACC is mandated to combat corruption and economic crime through law enforcement, prevention and public education.
On the Board of Directors, MAP International Sept 2002 to date. With HQ in Brunswick Georgia, MAP International is a Christian NGO with the theme of HEALTH AND HOPE FOR A HURTING WORLD for over 50 years. MAP was very
active in responding to the 2004/05 Tsunami crisis. MAP's regular work in Africa and Latin America has been particularly outstanding in supply of medicines and in
stimulating the involvement of Faith-Based Organisation's response to the challenges arising from HIV/AIDS and expansion of medical services.
Attended and contributed to White House Malaria Summit on invitation of President and Mrs. Laura Bush marking the second anniversary of the President's Malaria Initiative (PMI), December 2006
On Global Health Workforce Alliance (GHWA) Board since 2006. Addressing global shortage of Human Resources for Health; severest in Africa.
On the Action Africa Help – International (AAH-I) Board with HQ in Nairobi, Kenya. AAH-I is an International NGO working in Conflict and post-conflict as well as drought-stricken and other threatened environments. The largest operations are in Southern Sudan and Northern Uganda and also works in Somalia, Zambia, and Kenya. Its focus is on the empowerment of communities as a strategy to improve the quality of life of people through their own involvement in health care, food production and good governance.
1965 – 1968: High School Teaching
Taught Biology, Chemistry and Physical Education at high schools (1966 – 1968). Left in 1968 to study medicine because too many students in her class were sick and there was a severe shortage of medical doctors in the immediate post-ndependent Kenya.
March 1973 – August 1974: Medical Officer, Ministry of Health
On completion of internship, posted to Division of Communicable Disease Control, Ministry of Health, Kenya. Developed the framework for Integrated TB-Leprosy Control Program in Kenya.
Sept. 1974 - Sept. 1982: Lecturer/Senior Lecturer, Department of Community Health, Faculty of Medicine, University of Nairobi
Was Director of National Pilot Project in Community-Based Health Care that took on Operations Research. Evidence from this Project president at the 1978 international conference on Primary Health Care (PHC) that contributed to the adoption of the PHC strategy. Further success lead to being awarded the 1978 Global UNICEF MAURICE PATE AWARD, the first time the award came to Africa.
Departmental Coordinator of Graduate/Post-Graduate Studies & Research. Oversaw the development of research proposals of MSc and MPH students and junior staff on a whole range of topics for improvement of medical services and disease control.
Classroom and field teaching for medical students in community/public health Organizing fundraising and execution of research activities on topics related to the development of health in communities.
Participation in technical committees of MOH on behalf of Medical School as stated above.
Was Chief Investigator for a project financed by the Special Program on Human Reproduction Programme (HRP) based at WHO HQ with the title Mechanisms for eliciting community participation in Family Planning Activities that paved the way to broad participation of the people of Kenya in Planned Parenthood and contributed to the on-going demographic transition in Kenya.
September 1982 - September 1985: Chairman, Department of Community Health, Faculty of Medicine, University of Nairobi
Curriculum development for classroom and field work for medical, MSc Nutrition and MPH students on the Basic principles of Public Health. Particular attention paid to issues of promoting access to good quality medical services to all.
Planning and coordination of classroom and field instruction experiences of medical and graduate students in the Department
Resource mobilization in support of field work for exposing students to the challenges to be overcome for promoting access to health for disadvantaged communities.
Representation of department/medical schools at professional levels and at MOH in various technical committees including the National Committee on the Development of Primary Health Care (PHC) and that of Communicable Disease Control (CDC) that focused on improving medical services and reduction of disease burden through control and timely management.
September 1985 - November 1990: Chief Health and Nutrition/Senior PHC Adviser, UNICEF ETHIOPIA
Within the UNICEF country office, responsible for management of a health and nutrition budget which was the largest, often over $10 m per year
Advisor to the UNICEF Representative on the thrust of the health and nutrition country programme
Initiated with the Ministry of Health development of ACCELERATED CHILD HEALTH DEVELOPMENT (ACHD) Programme amidst civil war, drought and famine that raised
child immunization from 3% in 1985 to over 60% by the end of 1990; establishment of ORS corners in most health services and promotion of home based ORT.
Stimulation of collaborative activities between MOH, NGOs and UNICEF for improved absorptive capacity that greatly increased access to medical/health services in antenatal care, delivery and family planning services as well as epidemic control and curative services.
December 1990 - May 1993: Representative and Chief of Mission, World Health Organization to Ethiopia in Addis Ababa
Leadership in the containment of the huge epidemics that occurred soon after she became World Health Representative (WR) as the" rebels" took over leadership through. She was successful through advocacy for support from WHO/AFRO and fund raising from embassies in Adidas Ababa.
Support to government planning and management of national health programmes for improved delivery of medical/health services.
Stimulating and monitoring implementation of the programme of technical cooperation between WHO and the Government
Representing the World Health Organization in the country and Chief of Mission with oversight responsibilities for the WHO offices in Addis Ababa for OAU/ECA and Regional Emergency Centre. Through this pushed for the recognition of health as the foundation of development and raised visibility of medical services as development investment.
May 1993 - 31st December, 2000: Director, United Nations Population Fund Country Support Team Addis Ababa (UNFPA/CSTAA)
Providing leadership in building up a multidisciplinary team of over 20 international Regional Advisors to provide timely, appropriate and effective response to country requests for technical support in population and development programmes under three thematic areas of: Reproductive Health (including Adolescent Reproductive Health), Advocacy, Population and Development Strategies. Dr. Miriam K. Were coordinated the work of the team of technical advisors in promoting national capacity building towards national self-reliance in the technical areas of Information, Education and Communication (IEC); Reproductive health; Data collection, Management, Analysis and Utilization; Youth and Adolescence; Reproductive Health Services; Gender; Population Policy and Socio-Cultural Research.
Negotiating with Governments on key but sensitive areas in the field of Population and Development as to how the countries were to address them. These discussions were at the level of Ambassadors, Cabinet Ministers of various sectors including health sector and up to Heads of State and Government thus influencing opinion in Africa for improved reproductive health and other population services. African Heads of State honoured her by identifying her as Sole African Candidate for the Executive Director of UNFPA when a new appointment was due in 2000. Although the post went to another region, the high regard in which she is held continues.
MEMBERSHIP ON BOARDS, COUNCILS AND COMMITTEES
Founder Chairperson of the Public Health Association of Kenya, later renamed Community Health Association of Kenya, an affiliate of the World Federation of Public Health Association (1982 - 1984).
Founder Chairperson of the Kenya Medical Women's Association (KMWA) an affiliate of Medical Women's International Association (MWIA) 1983.
Member of Kenya's National Co-ordinating Committee for the End of UN Decade for Women Conference (hosted Nairobi July 1985) and author of Kenya's conference paper on the health theme (1984 - 1985).
Member of National Steering Committee for Primary Health Care Review, Kenya. 1985.
Member of the Consultative Group to the project of National Capacity Building for Child Survival and Development (NCB/CSD) of the UNICEF INTERNATIONAL CHILD DEVELOPMENT CENTRE Florence Italy. Have taken part in meeting in September 1988 (Florence) and May 1989 (Nairobi Symposium) 1988 - 1989.
Member of the WHO/Africa Region Team of WHO Representatives for developing strategies for the attainment of Health for all in Africa (1990 - 1993).
Member of the HRP (WHO) Steering Committee of Task Force for Family Planning Services, Geneva (1976 - 1979).
Member of the Board of Trustees of the International Centre for Diarrhoeal Diseases Research, Bangladesh (1979 - 1984).
Member of the TDR (WHO) Group on Social-Cultural/Community aspects of the Control of Tropical Diseases. (1981-1983)
Member of the Planning Committee for the Conference on Family Planning in the '80s. Challenges and Opportunities. Sponsored by UNFPA and Population Council, and held in Jakarta Indonesia (1980 - 1981).
Member of the Advisory and planning Committee of the Dag Hamerskjold Foundation Project on methods and media in community participation (1982 - 1984).
Member of the WHO Global Advisory Committee for Medical Research, Geneva. First Woman to be on this body, ever! (1980 - 1983).
Member of the UN Resident Co-ordinator's system. As WHO Representative and Chief of Mission and then as Head of Mission of the UNFPA Country Support Team for East and Central Africa (1990 - to date).
Member of the UNFPA-sponsored INTERAGENCY TASK FORCE (IATF) that steers the operations of the Technical Support Services (TSS) system for providing multidisciplinary technical services at the country level through which National Capacity Building is enhanced. In this regard has opportunity to work with both Country Level and UNFPA HQ Divisions in addition to the horizontal consultations with other CST Directors covering all regions of the world (1993 - to Dec. 2000)
May 1993 to December 1999, was the Chairperson of the Ethiopia HIV/AIDS Theme Group of the Technical Working Group (TWG) and participated in several HIV/AIDS Theme Group-related events in London (April 1996) and Nairobi (January 2000). The Ethiopian HIV/AIDS Theme Groups Technical Working Group that guided the development of the HIV/AIDS component in the programs of all UN Agencies.
October 1999, was Head of Mission to the Joint Mission of the International Partnership Against AIDS in Africa (IPAAA) to Ghana in a team composed of senior officers of the WB, UNESCO, UNFPA, WHO, GTZ and USAID that produced a Joint Communiqué with that Government that has been put into operation within one calendar year.
Member of the TECHNICAL ADVISORY COMMITTEE (TAC) of Africa Development Forum (ADF) 2000 on HIV/AIDS held December 3-7 at the UN Conference Centre, Addis Ababa and with responsibilities to follow this up. Prof. Miriam K. Were attended the ADF and made a presentation at plenary.
Chairperson, UZIMA Foundation Board of Trustees, 1995 to 2001. This is a Charitable Trust registered in Kenya in 1995 and whose Priority Program, Youth For Life Programme, facilitates the empowerment of young people in the areas of Economic empowerment, Management of Sexual and Reproductive Health and Control of HIV/AIDS among other project advisers.
Member, The Board of Directors, MAP INTERNATIONAL, Brunswick, Georgia, USA from September 2002 to date.
Member, International Board of AMREF, Nairobi Kenya from October 2001 to date.
Member, International Committee of the Council of Foundations, Washington DC, USA from September 2001 to date.
Member, University of Nairobi Council, from September 2001 to date.
Chairman, National AIDS Control Council (Kenya), March 2003 to date.
ABBREVIATED LIST OF PUBLICATIONS
KEY INITIAL INFLUENTIAL PUBLICATIONS
People's Participation in Their Own Health Care: Doctoral Dissertation.1981, John Hopkins University
ORGANISATION AND MANAGEMENT OF COMMUNITY-BASED HEALTH CARE, (1982; UNICEF)
Accelerated Child Health Development (ACHD) Published in WHO Health System Research Series. 1992.
KEYNOTE ADDRESSES
Keynote Addresses Published in proceedings:-
"The Community: At The Heart of Africa's Health Development"at the WHO/AFRO Conference on Community Health, Addis Ababa 2006
"A Bridge to Better Health in Africa: Links between Evidence, Policy& Practice" Linking Health Research to Policy and Practice in East Africaon The Occasion of The 1st East African Health And Scientific Conference And The 33rd Medic Africa International Exhibition, Serena International Conference Centre, Kampala, Uganda 28th-30th March, 2007.
"A Case For Links Between Evidence, Policy& Practice As A Bridge To Better Health In Africa"on The Occasion Of The Session On Treasures From Abroad During The Celebration Of The First 10 Years Of The Canadian Health Services Research Foundation, Delta Centre-Ville And Montreal Science Centre, Canada, March 21-22, 2007
"Africa's Health Crisis - Scaling up Community Health Worker Programs"At the Conference with Jeffrey Sachs on The Occasion of The Conference on Addressing the Urgent Human Resource Constraint for Health in Africa: Safari Park Hotel Nairobi, Kenya May 30 – 31, 2007.
"Making Progress towards Getting Africa to Her Right to Health"on the occasion of receiving The Queen Elizabeth II Gold Medal For Public Health From The Royal Society Of Health, UK.- 18th July, 2007
PUBLISHED PAPERS
1972 The role of Preventable Diseases in Causing Death in Kenya Nairobi Journal of Medicine. September 1971.
Proceedings of the Teaching and Practice of Family Health of the Association of Medical Schools in Africa. By the Eastern African Academy 1973. Ed. Mungai J.M.
1973 Attitudes Towards Family Planning
1979 Health Care for Day Care Centres
With Professor Colin E. Forbes. Biannual bulletin of the Bureau of Education Research, Kenyatta University, Kenya December 1976.
1979 Rural Women's Perception and Community-Based Health Care
East African Med. Journal, October 1979 (Vol. 54, No. 100)
1979 Conventional Health Care Systems and Current Approaches to Health Care
Nairobi Journal of Medicine, September 1979.
1979 Medical and Legal Aspects of Offences Against Children:
With Fred Ojiambo, a lawyer, 1979, which appears in CHILDREN AND THE LAW IN KENYA, occasional paper No. 35 of the Institute for Development Studies. University of Nairobi, a monograph.
1979 Community Diagnosis and Health Action
A Contributor to the Text: F.J. Bennet, Ed. Publisher: Macmillian 1979.
1980 The Place of Professional Competence in Community Participation in the 1980s
Acceptance address on receiving The Tolbert Award. Published in the Proceedings of the National Council for International Health Annual Conference 1980.
1982 ORGANISATION AND MANAGEMENT OF COMMUNITY HEALTH CARE:A Text. Publisher: UNICEF 1982. Nairobi.
1983 Social Meaning of Sexuality. Written October, 1983
Published in the Proceedings of theSIDA/SAREC AFRICAN SEMINAR ON WOMEN AND REPRODUCTION. SIDA, STOCKHOLM.
1983 Primary Health Care: West Kenya. A Pilot Project:
Medic's August 1983, Vol. 2, No. 9 (pp. 10-13).
1984 The Primary Health Care Strategy and the Child
In the 1984 proceedings of the Annual Scientific Seminar of the Kenya Paediatric Association. The Keynote Address.
1984 Cuts, Wounds and Scabies in the Rural Home: Approaches to Prevention and Management in the Primary Health Care Context
In the 1984 Proceedings of the Annual Scientific Seminar of the Kenya Paediatric Association. Paper presented to the 1983 annual Scientific Seminar of same.
1984 Community Participation in MCH/FP in Kenya: Community Awareness of Consequences of Short-Birth Intervals and Related Conflicts on the Sex Mix of Offspring
In the Proceedings of the First National Conference on Reproductive Health, 1984.
1984 Assessment of Health Problems Amendable to Public Health Action with Community Participation
The Nairobi Journal of Medicine. Vol. II, No. 2. October 1984 (pp. 66-67) Uppsala.
1985 The Place of Obstetrics and Gynaecology in Primary Health Care
Background paper for WHO Expert Committee on Cardiovascular disease. WHO document CVD/EC/PC.WP/84.13.
1985 The Myth of Peoples Ignorance: Indigenous Knowledge Systems and Development Workers
A Chapter in the text SEARCH FOR PROCESS, Vol. I. REPORT FROM A PROJECT ON COMMUNITY PARTICIPATION, Vol. II COLLECTION OF CASE STUDIES, Vol. III SELECTED BIBLIOGRAPHY, The Dag Hammarskjold Foundation, Uppsala: 1986
1985 Extended Family Involvement of Kenya Professional Women
With Harriett McAdoo, PhD of Howard University. A Chapter in WOMEN IN AFRICAN AND THE AFRICAN DISPORA. Publisher: Howard University Press. 1985. Washington, D.C.
1987 Communicating on Immunization to Mothers and Community Groups
An assignment Children (A Journal Concerned with Children, Women and Youth in Development by UNICEF) 69/72 - 1985. Special Issue on Universal Child Immunization by 1990.
1988 Public Health Aspects of Hunger and Malnutrition
1988 World Food Conference: Proceedings Vol. II Issue Papers Iowa State University Press, Ames Iowa U.S.A.
1989 Contribution of The Child Survival and Development Revolution to the well-being of WomenProceedings of the National Workshop on safe Motherhood Sept. 1989 Ministry of Health, People's Democratic Republic of Ethiopia.
1989 Ecological Upheavals with Specific Reference to Desertification and Predicting Health Impact
Journal of Social Science and Medicine special issue for XII Conference. Amsterdam July 1989.
1995 he cultural context and the development worker
In proceedings of the workshop on socio-cultural consideration and research issues (in the population field) held April 17 - 19 1995 Addis Ababa.
March 1997 Community-Based Health care (CBHC): THE MEANS OF HEALING THE HEALERS.
Presented at the 1st CBHC International Conference on the theme HEALTH, HEALING AND WHOLENESS at Safari Park, Nairobi, 17 – 21 March 1997.
June 1998 Developing Leaders or Health Systems for Health for all: which comes first?
Keynote address at the First International Conference on Community-based Health care (CBHC) Nairobi, Kenya, March 1997, and published in The Afri-Can - a magazine of the African Action Community Network for Health.
OFFICE TECHNICAL PUBLICATIONS IN THE UNITED NATIONS POPULATION FUND (UNFPA) COUNTRY SUPPORT TEAM (CST) ADDIS ABABA NEWSLETTER
1994 Challenging opportunities for Africa posed by the ICPD programme of action: A look at selected critical challenges
CSTAA NEWS: Issue No. 4 of December 1994. The Biannual publication of the UNFPA Country Support Team, Addis Ababa
CST Director's country familiarization visits. A synopsis of development situation and the population sector of 12 countries in East, Central, and Anglophone West Africa
CSTAA NEWS: Issue No. 3 of June 1994. The Biannual publication of the
UNFPA Country Support Team, Addis Ababa
1995 Balancing extreme poles in the discussions on the empowerment of African Women
CSTAA NEWS: Issue No. 6 of December 1995. The Biannual publication of the UNFPA Country Support Team, Addis Ababa
Providing technical services in situation of civil conflict and other emerging situations
CSTAA NEWS: Issue No. 5 of June 1995. The Biannual publication of the
UNFPA Country Support Team, Addis Ababa
In the proceedings of the Internal Workshop of 1 - 5 January 1996 on Gender Training, UNFPA/CST.
1996 The place of sexuality education in promoting adolescent reproductive health
Issue No. 2 in CSTAA Technical Paper series by UNFPA Country Support Team, Addis Ababa.
The evolving role of TBA (Traditional Birth Attendants) in the Reproductive Health Approach
CSTAA NEWS: Issue No. 8 of December 1996. The Biannual publication of the UNFPA Country Support Team, Addis Ababa
Focus on the local community
CSTAA NEWS: Issue No. 7 of June 1996. The Biannual publication of the UNFPA Country Support Team, Addis Ababa
Caring Human Relationship is the bottom line in the gender approach
1997 Reproductive Health Concerns in Midlife
CSTAA NEWS: Issue No. 9 of June 1997. The Biannual publication of the UNFPA Country Support Team. Addis Ababa.
-General Management of the Menopause/Post Menopause Period
CSTAA NEWS: Issue No. 9 of June 1997. The Biannual publication of the UNFPA Country Support Team. Addis Ababa.
Dec. 1998 ICPD+5: Experience CSTAA News Dec. 1998.
Dec. 1999 The Extent to which capacity Building takes place (in UNFPA Supported Country Programs): CSTAA News No. 13 &14.
June 2000 International Partnership Against AIDS in Africa (IPAAA): Spurring on the Expanded and Accelerated Response CSTAA News No. 15 A publication of the UNFPA Country Support Team, Addis Ababa, Ethiopia.

CREATIVE PUBLICATIONS
NOVELS
The Boy in Between. Oxford University Press, Nairobi, 1969.
The High School Gent. Oxford University Press, Nairobi, 1972.
The Eighth Wife. East African Publishing House, Nairobi, 1972.
Your Heart is My Alter. East African Publishing House, Nairobi, 980.
All the four novels have been revised by Mvule Africa in 2006, P. O. Box 2157-00200 Nairobi
BIOGRAPHY
A Nurse with a Song. The Life of Margaret O. Wanyonyi. Challenge Publishers, Nairobi, 1979
POEMS - in several poetry journals. E.g. Zuka, Beloit Poetry Journey (as Miriam Khamadi)