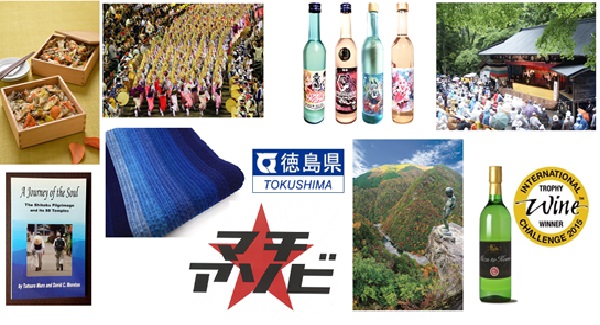 Eisaku Asahi
Chairman
Awa Odori
Promotion Association
Awa Odori Promotion Association This association was established for the purpose of popularizing and promoting "Awa Odori" dance, which is a local performing art of Tokushima Prefecture. It plays a significant role in developing and passing on the dance for future generations and in promoting tourism. It received His Imperial Highness Prince Takamado Memorial Regional Performing Arts Award in 2007 and the Japan Tourism Agency Commissioner's Prize in 2013.
Yoshihiro Ueda
Chairman
Oboke-Iya Ittemirukai
This organization is comprised of five hotels in the Oboke-Iwa hot spring town and 27 supporting companies. In the 15 years since its establishment, it has welcomed a broad range of visitors by conducting overseas and domestic promotions as a core organization of the "NishiAwa Kanko Ken," a body that has received national recognition for engaging in public-private sector collaboration.
Hikaru Kondo
Producer
President
ufotable
Headquartered in Koenji, Tokyo, ufotable has produced a string of high-quality animated works. Since 2009, it has served as the head producer of "Machi★Asobi," an anime event organized around the concept of "getting the most out of Tokushima."
Kenji Sato
Awa Nousonbutai no Kai
Awa Nousonbutai no Kai The aims of this association are to promote highly inventive "Tokushima-style" cultural creation and activities and to contribute to community revitalization. It strives to achieve them by executing projects to preserve and utilize regional cultural assets, such as rural open-air stages and Awa Jorori puppet theater. It also operates a prefectural facility dedicated to Jorori puppet theater and a facility where visitors can try making hand-made Japanese paper.
Itaro Nagao
Senior partner Nagao-Orifu
Established in 1897, Nagao-Orifu operates a long-established shop that manufactures and sells fabrics and dyed goods. Its current senior partner was certified as a traditional craftsman in Awa Shoai Shijira weaving in 2011. Although it once primarily made Japanese clothing, it is now developing new materials that incorporate the characteristics of Awa Shijira weave. Aiming to fuse modern and traditional elements into material for Western-style clothing and for interior goods, Nagao-Orifu will protect Awa Shijira weaving's past and inherit its future.
Chinami Hamauchi
Cooking specialist
Ms. Hamauchi was born in Tokushima Prefecture. After graduating from university, she worked as an office worker for a time before entering the Okamatsu Cooking Laboratory. In 1980 she opened a family cooking school.  Her motto is "There is no activity that can offer the dreams and fun of cooking." She is a writer of magazine articles and books and actively participates in various cooking-related events, including television and radio shows and lecture presentations.
Satoru Hiraoka
Executive managing director
The Awa Bank, Limited
Awa Bank was established in June 1896 as Awa Commercial Bank. It is celebrating its 120th anniversary this year. Under the motto "A bank that remains connected with its customers, and a bank that is always connected to the future, by generating excitement and satisfaction," Awa Bank plays an active role in community revitalization as a leading regional bank.
Motoko Matsuura
President
Honke Matsuura Shuzojo Co., Ltd.
Honke Matsuura was founded in 1804. It names its sake "Narutotai" in the hope that it will be loved just like the sea bream (tai in Japanese) , which is considered the "king of fish" and typically found in the Naruto Strait, and that it will attain the kind of grace and refinement that the fish demonstrates as it swims through the strait's violent currents. The company achieved the honor of being the only brand to win the highest award in the Junmai category of the International Wine Challenge, the world's largest wine competition, held in London in 2015.
Ryuichiro Mamiya
President
Miyoshikiku Shuzo Co., Ltd.
In 2001 Mr. Mamiya abolished the traditional master brewer system and became his own master brewer. The company currently sells its products in the Tokyo metropolitan area and is expanding its overseas exports. It exports sake to ten countries as of 2015, and is striving to make its sake available to even more consumers.
David Moreton
Teacher
Tokushima Bunri University
Mr. Moreton was born in Canada. After earning his master's degree at the University of British Columbia, he began studying the Shikoku Pilgrimage in Tokushima in 2001. He has published a great deal of literature on the subject and has appeared on television and radio numerous times. Through a broad variety of activities, he strives to tell people in Japan and throughout the world about the fascinating qualities of the Shikoku Pilgrimage.