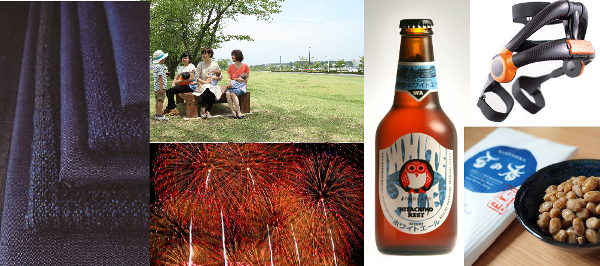 Takeji Okuzawa
President and CEO of Okujun Ltd.
Mr. Okuzawa runs a well-established silk textile shop that uses the yuki-tsumugi silk fabric production technique, which is listed by UNESCO as Intangible Cultural Heritage. He has developed new materials that take advantage of the unique characteristics of yuki-tsumugi and is attempting to find new markets for these materials as high-end garment fabrics, shawls, and interior decorations. He has worked diligently to expand overseas, such as having Okujun textiles used in men's suits showcased in Paris collections.
Toshiyuki Kiuchi
Owner, Kiuchi Brewery Inc.
In addition to Japanese sake, the brewery makes Hitachino Nest Beer, which won a Gold Medal and the Champion Beer award at the 2002 U.K. The Brewing Industry International Awards, among many other awards around the world. Mr. Kiuchi is actively expanding his business overseas.
Caroline Benton
Vice-President (Global Affairs), University of Tsukuba
Born in California, U.S., Professor Benton entered graduate school at the University of Tsukuba and then the Tokyo Institute of Technology after graduating from University of California, Davis. After working as a consultant for foreign-affiliated companies in Japan, she became a professor of business science at the University of Tsukuba in 2008 and took her current role in 2013. Her specialties are business strategy and leadership.
Yoshiyuki Sankai
President and CEO of Cyberdyne Inc.
Professor Sankai established Cyberdyne Inc. in 2004 to develop the world's first cyborg-type HALR robot suit, which improves, supports, and enhances the movements of the wearer by sensing biopotential signals from the brain. Professor Sankai is a professor at the Graduate School of Systems and Information Processing at the University of Tsukuba, Manager of the Center for Cybernics Research at the University of Tsukuba, and a program manager of the Cabinet Office's Impulsing Paradigm Change through Disruptive Technologies Program (ImPACT).
Shiho
Producer of "The breathtaking sights in the world I want to see before I die" series.
Shiho's Facebook page "The breathtaking sights in the world I want to see before I die", which show pictures of picturesque scenery around the world, received 700,000 likes. The stunning fields of baby blue eyes in Hitachi Seaside Park were selected as the 11th most picturesque scene in the world. Shiho's books have provoked a huge reaction, reaching No. 1 on Amazon. The third book in the series is expected to be released in April.
Noriko Shimabukuro
CEO of the Tsukuba Incubation Laboratory
Ms. Shimabukuro is the general manager of the Ibaraki Creator's House, a venue for creations by young creators and part of the Ibaraki Contents Business Evolution Project. Drawing on her experience as a regional incubator and coordinator, she aims for creator independence and industry revitalization.
Kazuyoshi Terakado
CEO of Joyo Bank, Ltd.
Joyo Bank was established in 1935 with the merger of the Tokiwa Bank and the Goju Bank. The bank is celebrating its 80 anniversary this year. Mr. Terakado is driving various initiatives to spur regional creativity based on its twin aims of being the best partner bank that grows with its customers in the home region and the PLUS+ project for collaborative growth for the future.
Mamoru Teramoto
Ceramic artist, Teramoto Studio Potters
Mr. Teramoto is a highly regarded modern Kasama ceramic artist known around the world. Taking the perspective of nurturing young artisans, he is involved in making recommendations to revise the teaching methods in the prefecture's ceramic instruction studios.
Yoshihiko Tokiwa
CEO of Oarai Creative Management Inc.
Mr. Tokiwa is engaged in community building with an eye to expanding prefectural products overseas through his production company Oarai Maiwai Market that makes use of regional resources such as the Girls und Panzer anime series.
Yoichi Nomura
CEO of Nomura Hanabi Industry, Ltd.
Mr. Nomura has been the overall champion () at numerous firework displays throughout Japan. He was named a Contemporary Master Craftsman in 2013 and awarded the Yellow Ribbon Medal in 2014. He also frequently appears on television.
Hiroshi Fujiwara
Food culture researcher and food analyst
Through his work at advertising agencies, Mr. Fujiwara researched food cultures around the world. After returning to Japan, he ate his way around restaurants in Japan and elsewhere and he frequently appears in the media to discuss food culture in a straightforward way using his broad knowledge. In addition to serving as a branding advisor to large department stores, accommodation facilities, and dining scenes, he is devoted to improving food culture across many different stages.
Yuka Mitsuhata
CEO of Mo-House, Ltd.
"Nursing wear makes child-raising more fun."
Mo-House produces and sells nursing wear and inner wear that lets mother nurse their babies comfortably anytime anywhere. The company also provides information about breastfeeding. It has retail stores in Aoyama, Tokyo and at its head office in Tsukuba. The store staff members are mothers with children just like the employees at the head office.